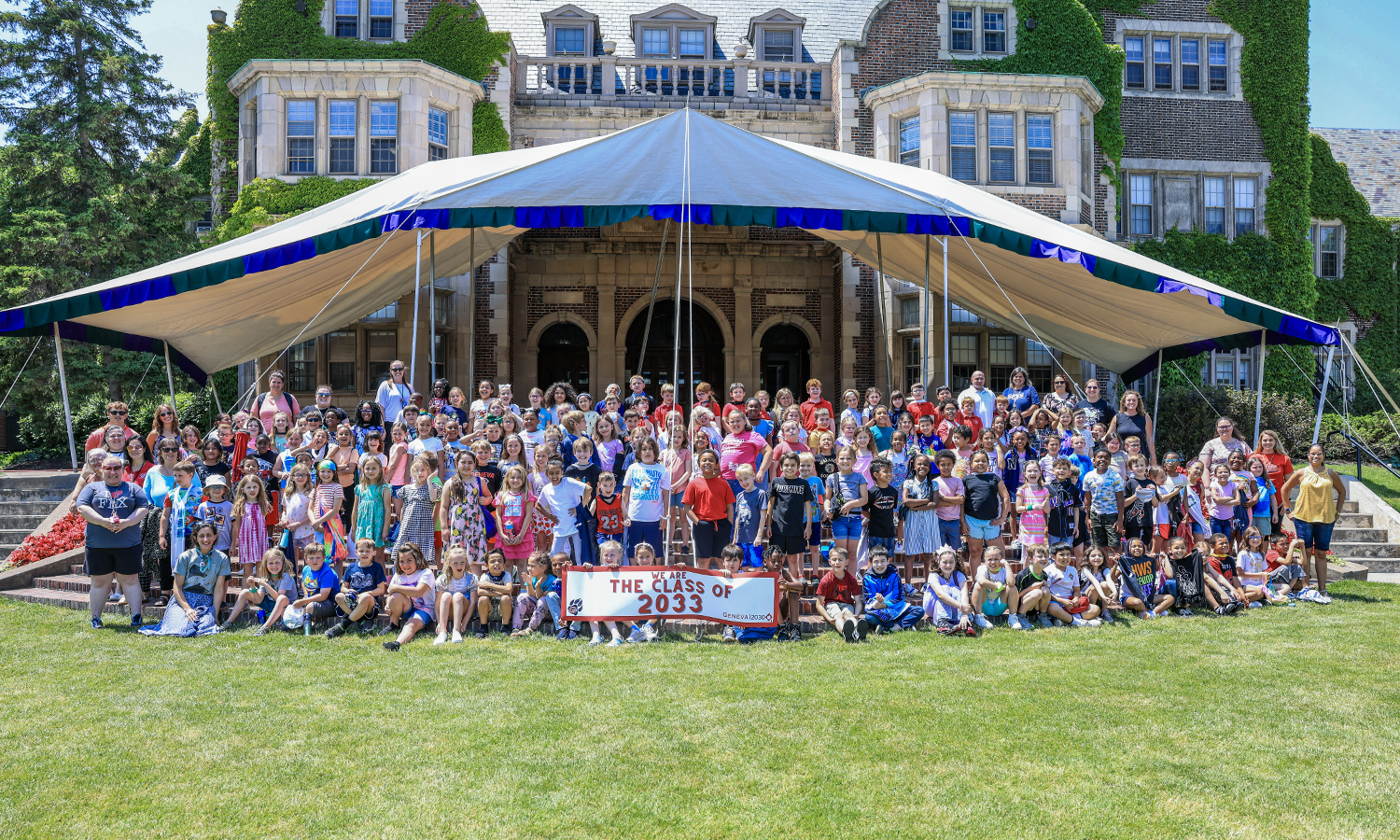 HWS News
10 July 2023 • Service HWS Welcomed Second-Graders to Campus
Through the Geneva 2030 partnership, second graders imagine bright futures.
By graduation, Geneva City School District students will have visited Hobart and William Smith three times. Beginning in the second grade, students also return as sixth and ninth graders.
"When each Geneva child is welcomed onto the local campus three times in their K-12 experience we hope that it builds confidence and excitement about their future choices," says Assistant Director of the Center for Community Engagement and Service Learning Peter Budmen '15, MAT '16.
During the second-graders visit to campus this spring, the theme for the day was "We are all superheroes – Everyone has a talent to share." Each student received a copy of Vice President Kamala Harris' children's book Superheroes are Everywhere. Students in the school district's dual-immersion program received their copy of Harris' book in Spanish. HWS faculty and summer research students led a Spanish-language lesson where they taught everyday words you might use on a college campus. ​
Second Graders Visit HWS Campus

According to the U.S. Census Bureau, roughly 1 in 5 Americans speak a language other than English in their homes. In Geneva, 12.4% of the population speaks a language other than English (See more Geneva 2030 Data).
Activities throughout the day included a game of "Would You Rather" that incorporated movement and activated decision-making skills. Staff in the Warren Hunting Smith Library led an activity on visual literacy. Students also participated in Empowerment-Central, a social-emotional based learning activity and got a Do It Yourself upcycled book bag and superhero cape.
Twenty-five HWS community members and Sodexo catering staff participated in the visit.
Geneva 2030 is currently funded by Hobart and William Smith, The Breitfeld Group, Strive Together and the Town of Geneva. Past support has come from the Wyckoff Family Foundation, the Max and Marian Farash Charitable Foundation, the ESL Charitable Foundation, the Rochester Area Community Foundation and the City of Geneva.

Geneva 2030 is a collective impact initiative working with resources from the entire Geneva community, including nonprofit organizations, businesses and individuals, to support the education of Geneva's children from birth through high school and beyond. Since its founding in 2011, Hobart and William Smith have served as its anchor institution. To learn more about Geneva 2030 visit here or here to learn more or reach out to geneva2030@hws.edu.