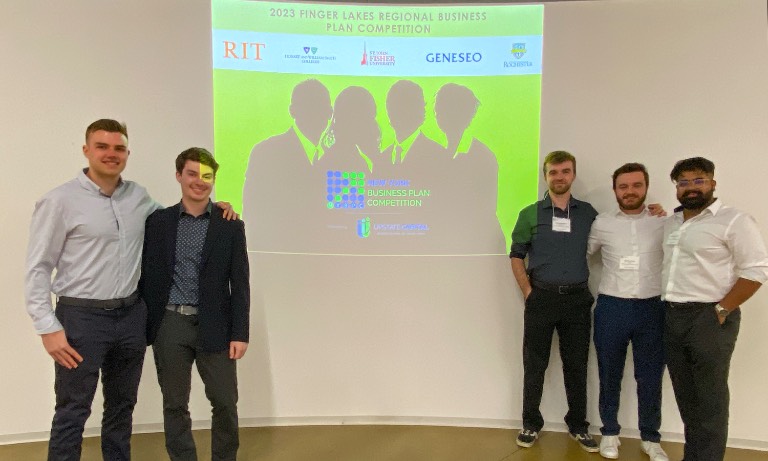 HWS News
Hobart and William Smith students will represent three of the final six teams in the New York Business Plan Competition, presenting their startups that began on campus.
After recent success at the regional round of the New York Business Plan Competition, three teams from Hobart and William Smith will compete for up to $100,000 this week in Syracuse.
Connor Quinn '23, Sreyan Kanungo '23, Reece Wilson '24 and Andrew Lynch '23 will present the startups they have developed during their time at HWS on Thursday, April 27 at the OnCenter. They'll also get a chance to meet local investors. More details can be found here.
The competition is open to students from New York's 10 geographic zones: Capital Region, Central New York, North Country, Mohawk Valley, Finger Lakes, Western New York, Southern Tier, Mid-Hudson, New York City and Long Island.
Since 2010, the competition has provided a platform for training New York's next generation of entrepreneurs, launching new ventures, commercializing innovations developed on campuses across New York.
HWS students and their startups in the finals are:
Water Watts - Connor Quinn '23
Water Watts uses running water and simple turbines inside pipes to generate energy to be rerouted to a storage battery for future use. Quinn was the winner of the Todd Feldman '89 and Family Pitch Contest.
Utime - Sreyan Kanungo '23 and Reece Wilson '24
UTime is an automated scheduling system designed to help college students manage their time better.
LeaderUp - Andrew Lynch '23
LeaderUp is an educational platform that's focused on teaching personal finance to high-school aged individuals through online courses.
"We have all put a lot of time and effort into our business ideas and it is very exciting to be competing against the best start-ups in the state," says Quinn. "Taking an idea and turning it into an investor-worthy pitch takes a lot of effort and this process will help each contestant as they enter the working world."
The finalists have been preparing with Entrepreneurial Fellow Ed Bizari and Adjunct Professor of Management and Entrepreneurship Steve Brookstein to polish their presentations.
"It just shows our process is working because they can compete at this level," says Professor of Economics Tom Drennen.
At the regional competition held at Rochester Institute of Technology, four teams from HWS were awarded or received recognition. Quinn, Kanungo, Wilson and Lynch presented along with Brendon Bennett '23, who won the Best Concept award for FibrWorks. FibrWorks is developing a hemp-based composite that will replace plastics and other materials in the industrial landscaping industry, starting with the string trimmer used in weed whackers.
Lynch says the experience of research, developing and pitching his startup has been an incredible experience.
"I've learned a ton ranging from customer discovery, product development, marketing, developing key partnerships, and the difficulty of actually starting a business," he says. "Win or lose, I'll know that I'm leaving here having learned some extremely valuable lessons not only in business, but also in life."
Top: HWS students Andrew Lynch '23, Connor Quinn '23, Brendon Bennett '23, Reece Wilson '24 and Sreyan Kanungo '23 at the New York Business Plan Competition regional event held at Rochester Institute of Technology.