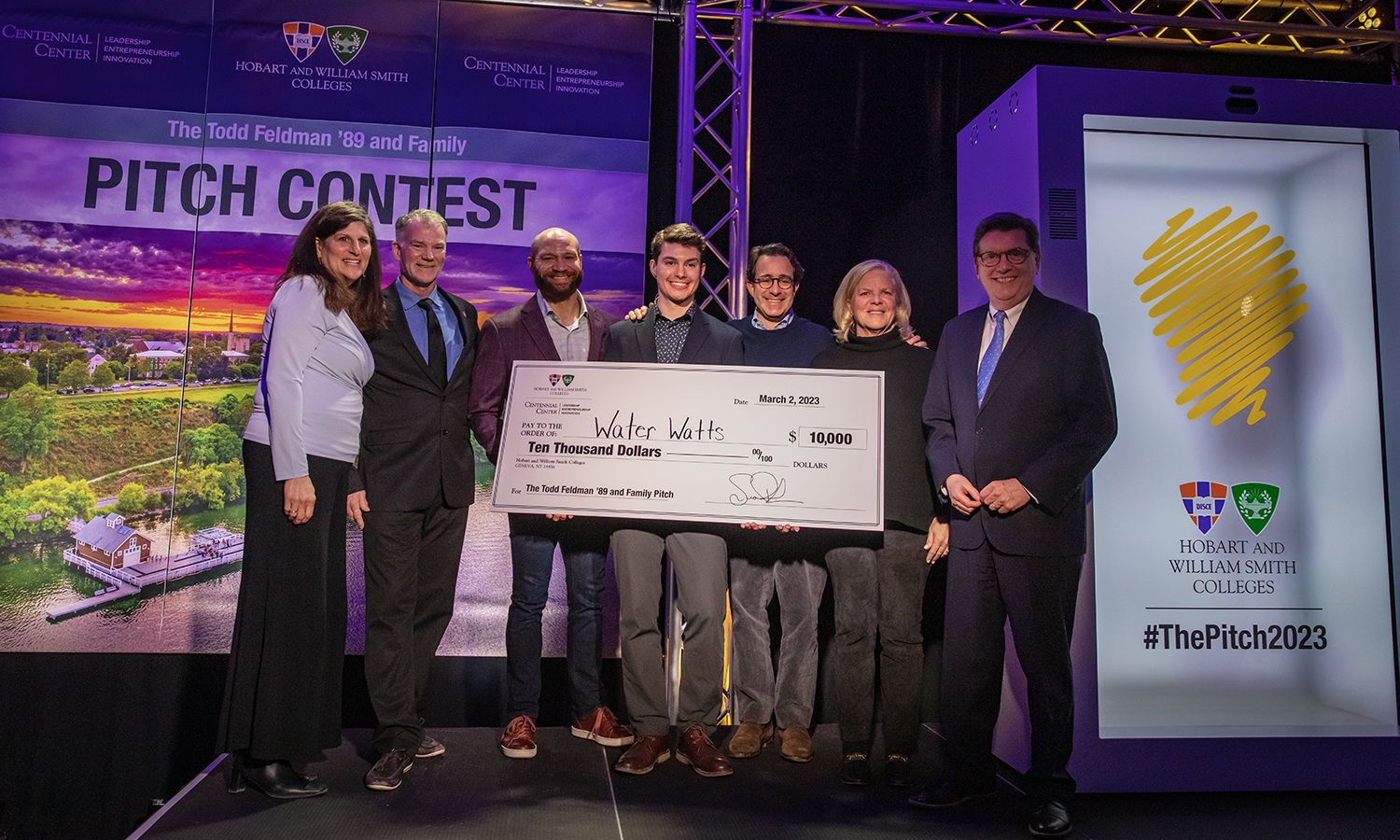 HWS News
3 March 2023

Quinn '23 Wins the Pitch while Holograms Connect HWS to LA By Natalia St. Lawrence '16

Connor Quinn '23 is the winner of the Todd Feldman '89 and Family Pitch Contest. The event included a surprise hologram display and special appearance by Howie Mandel, the host of America's Got Talent.

Innovation was on full display at the 12th annual Todd Feldman '89 and Family Pitch Contest. The winner of this year's entrepreneurial leadership competition and a $10,000 grant to make his idea a reality is Connor Quinn '23, the creator of Water Watts.

Water Watts uses a series of turbines placed inside water pipes in buildings to deliver a renewable source of energy.

During the event, the HWS community was surprised with a special holographic experience, made possible by Todd Feldman '89 and Proto, the original, patented, self-contained interactive hologram device. The technology allows viewers to see, hear and interact with others from anywhere in the world. While in Los Angeles physically, live holograms of Feldman and the Inventor and CEO of Proto David Nussbaum beamed onto the HWS Pitch stage for a Q&A about entrepreneurship.

President Mark D. Gearan welcomed the HWS community to the competition. "There are many events on campus that display our relationship rich education, and this one is certainly no exception," he said. As the Pitch celebrates its 12th year on campus, Gearan reflected on the growth of entrepreneurial curricular offerings on campus, including the Colleges' newest major in Management and Entrepreneurship launching this fall.

A hologram of America's Got Talent host Howie Mandel, an investor in Proto and member of the company's advisory board, also took the HWS Pitch stage to congratulate the finalists.

"HWS! Howie Mandel here!... I just wanted to wish everyone luck. If you have an idea, go for it. As Nike says, 'just do it' and never give up. I've been doing it and never giving up for the last 45 years," Mandel said to the HWS community, "I hope I get to work with some of you in the future."

The Q&A was led by Matt Nusom '23, the 2021 winner of the Pitch and host of the podcast Entrepreneurial Endeavors.

Reflecting on his career trajectory and his more than 30-years of experience as an entrepreneur, Feldman shared a powerful message. "I truly believe that everyone has inside of them a great idea. It's events like The Pitch that create meaningful opportunities to make that idea into to a reality," he said.

The winner of the Pitch was announced by Todd Feldman's sons, Sammy and Ari, who also appeared on stage via hologram.

Quinn's company, Water Watts, has ambitions to radically innovate in the energy sector, at once improving existing water infrastructure and providing a renewable source of energy for residential consumers.

"This solution to our energy crisis is hiding right beneath our feet," Quinn said during his pitch, "Currently, each American citizen uses an average of 82 gallons of water per day. And this flow of water provides an untapped source of energy."

Quinn explained how the technology works and how he intends to differentiate Water Watts on the market. "As water goes through the turbines, their rotations generate kinetic energy, which is rerouted and stored for future consumption."

While generating hydropower from pipes is already commercially available for large markets, such as city boroughs, Water Watts will innovate by bringing their product to much smaller pipes than currently available, allowing them to work with residential buildings or hotels.

Quinn was mentored by Jeff Eaton '83, executive vice president of Lift Business Advisors, who also connected him with mentors Pete Black and Danny Murtaugh.

This year's judges included: Charlie Brind '84, P'22, president of Westwood Benefits, Inc.; Deb Hauser '83, P'22 P'24, residential real estate executive; Jason Magna '95, P'27 founder and president of Riverside Partners; and Rafe Mattingly '08, senior solutions consultant at TiER1 Performance and founder of Class IV Coffee Company.

After every pitch presentation, the judges had the opportunity to vet the business plans. Hauser, during her questioning, said to Quinn, "This is a big idea, Connor. We like big ideas."

Associate Provost and Director of the Centennial Center Susan Pliner summarized the judges' reflections. "The judges were impressed with all the students. And really impressed with their presentations, their maturity, their courage, and of course, their ideas. 'Blown away,' is what they said during the deliberation."

The other competitors included: Christopher Bass '23, founder of Finger Lakes Flame; Zaheer Bowen '23, who presented The Nite Cap; and Hagen Morris '23, founder of BLU.

The Pitch is a program of the Centennial Center for Leadership, Entrepreneurship and Innovation at HWS.

Proto also makes a tabletop version of the devise used at HWS – called the Proto M – and was just named to Fast Company's Most Innovative Companies list for the second year in a row. With additional offices in New York, London, Paris, Seoul, Jakarta and more, the hologram leader is active in education, healthcare, telecommunications, entertainment, retail and the arts.

Find out more at ProtoHologram.com.

Hobart and William Smith are a future-focused, liberal arts and sciences institution known for preparing students to lead lives of consequence. Led by a faculty of accessible teacher/scholars known for the impact of their research and distinguished by the depth of their mentorship, the Colleges nurture intellectual, professional and ethical development through a relationship rich, residential education. Students benefit from Hobart and William Smith's location on the edge of Seneca Lake which serves as a classroom, a destination and a reminder of each individual's endless potential.

The Pitch full video recording.

In the photograph above, Matt Nusom '23 hosts a Q&A with Todd Feldman '89.