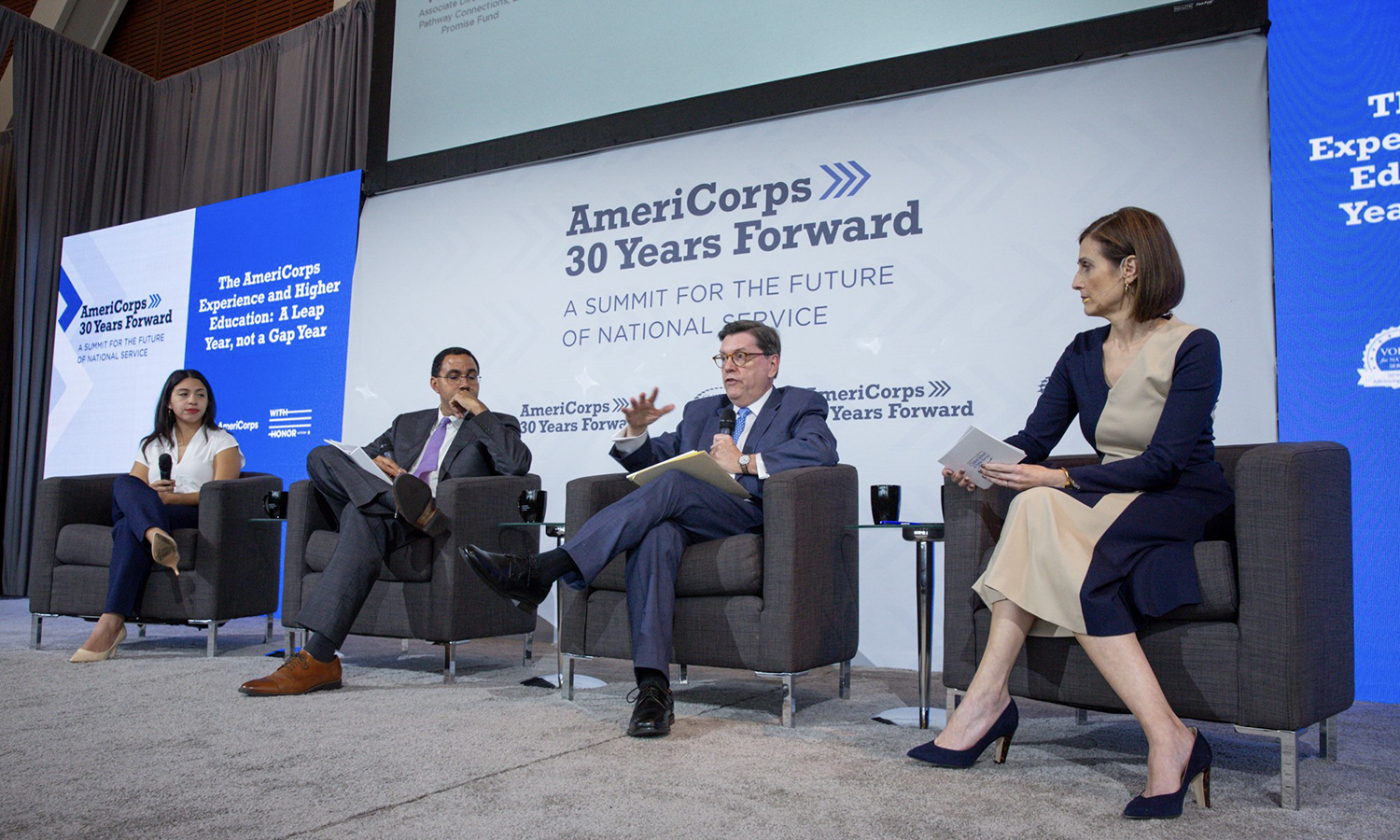 HWS News
19 October 2023 • Service 30 Years Forward: Gearan Joins Celebration of AmeriCorps in Arkansas
HWS President Mark D. Gearan and national service leaders convened in Arkansas with former President Bill Clinton L.H.D. '17 to discuss the future of national service.
On Thursday, Oct. 26, former President Bill Clinton hosted a group of national leaders, including HWS President Mark D. Gearan, at the Clinton Presidential Center for a series of conversations about the future of national service. The event, "AmeriCorps: 30 Years Forward," coincided with the 30th anniversary of the National and Community Trust Act, which established the Corporation for National and Community Service and created AmeriCorps, the federal agency for national service and volunteerism.
"For Hobart and William Smith alumni, students, faculty and staff, service holds a central place in our history and is a guiding tenet for our future," says Gearan. "I enjoyed representing the Colleges and engaging with other leaders on the value of national service and opportunities to deepen its impact, and am invigorated by the vision of AmeriCorps CEO Michael D. Smith for the program's next 30 years."
In addition to Gearan and Clinton, participants included Alan Khazei L.H.D. '15, one of the nation's leading national service advocates and cofounder of City Year, who delivered the Colleges' 2023 Commencement address.
Gearan is known nationally for his work in higher education and national service. He is Interim Chair of the Board of the Clinton School of Public Service and is on the Harvard College National Advisory Board on Public Service. He recently served as Vice Chair of the National Commission on Military, National and Public Service created by the U.S. Congress. He is a past chair of the Board of Directors of both National Campus Compact and the Corporation for National and Community Service. He has served in a variety of roles in American politics and government including White House Communications Director, White House Deputy Chief of Staff, Vice Presidential Campaign Manager for Clinton/Gore '92 and Executive Director of the Democratic Governor's Association. In September 1995, Clinton appointed Gearan as the 14th Director of the Peace Corps where he oversaw the expansion of the Peace Corps program into South Africa, Jordan and Haiti as well as the establishment of the Crisis Corps, which sent former Peace Corps volunteers into crisis areas for six months or less to help during emergencies.
In August, for the seventh year in a row, Washington Monthly ranked Hobart and William Smith among the top five U.S. liberal arts institutions for service.
All HWS students participate in community service, service learning and/or community-based research starting in their first week on campus during Orientation. Annually, students contribute more than 80,000 hours of service and engagement and generate approximately $110,000 in fundraising efforts that are directed to non-profit organizations. Learn more about the Colleges' 2022-23 impact.