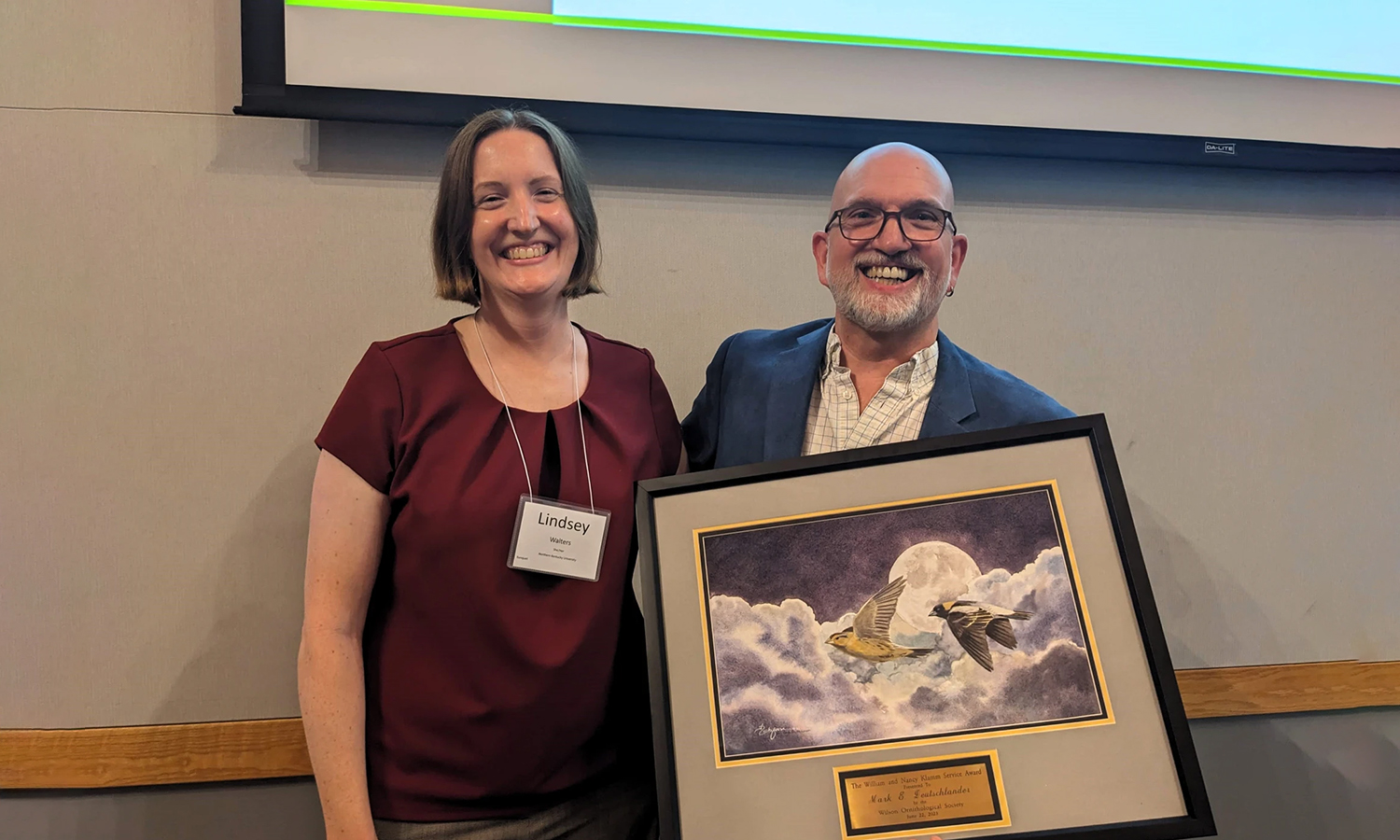 HWS News
12 July 2023 • Service Deutschlander Receives Klamm Service Award
Professor of Biology Mark Deutschlander was honored for his service to the Wilson Ornithological Society and the birding community.
At the Wilson Ornithological Society's (WOS) 2023 meeting in Allentown, Pa., Professor of Biology Mark Deutschlander was awarded the William and Nancy Klamm Service Award, given annually to a WOS member who contributes to the organization's mission of providing mentorship to professional and amateur ornithologists through the sponsorship of research, teaching and conservation.
WOS is the second oldest and second largest scientific ornithological society in North America.
During the ceremony, Deutschlander was presented with a unique painting. Every year the WOS commissions a painting of a bird with special significance to the award recipient. Artist Julie Zickefoose painted a scene of Bobolinks in flight against a cloudy, moonlit sky, an homage to Deutschlander's work on migration, especially orientation among nocturnal songbirds. For more than 20 years, his research has focused on sensory aspects of migration and navigation; in particular, the use of visual cues and the earth's magnetic field in animal orientation. Bobolinks are especially significant to Deutschlander because his first publication as an undergraduate at SUNY Geneseo focused on magnetic orientation in Bobolinks. Deutschlander says, "my undergraduate mentor and, now friend, Prof. Bob Beason introduced me to research on migration and he is also largely responsible for why I first became involved with the Wilson Ornithological Society. So Bobolinks were a perfect choice to recognize my work but also to honor my mentor and colleague."
"Receiving the Klamm Service Award was both a surprise and one of the greatest honors of my career," Deutschlander says. "So many of my colleagues have served the organization in amazing ways. To be recognized for my service by those colleagues was deeply moving. And to learn my wife was behind-the-scenes helping artist Julie Zicklefoose decide on the subject for the commission artwork made the whole experience so personal."
Deutschlander first connected with WOS in 2008, when he brought Emily Runnells '08 to their annual meeting in Mobile, Alabama to present her research on thrushes. Deutchlander says he found a "supportive and accommodating community, with a shared focus on mentorship of early career ornithologists and students."
Since then, Deutschlander served as the WOS president from 2017 to 2019 and has served on numerous committees for the organization, including the Executive Committee, the Nancy Klamm Undergraduate Presentation Awards Committee, Student Presentation Awards Committee and more. In 2010, he brought the society's annual meeting to the Hobart and William Smith campus.
"It has been a pleasure to serve WOS for all these years. Knowing my service has helped so many other ornithologists achieve their research and professional goals is award enough for the hours I've dedicated to the society. Mentorship is key to healthy discipline, and the WOS ethos on students and early career ornithologists fits well with my personal aspirations," Deutschlander says. "Many of my HWS students have benefitted from WOS funding or from the experiences they gained at WOS annual meetings."
Deutschlander currently serves as the Associate Editor of The Wilson Journal of Ornithology, an international quarterly publication for professional and amateur ornithologists. He recently accepted a three-year position as a council member and chair of the publications committee for the Association of Field Ornithologists.
Deutschlander shares with students his passion for and knowledge about birds and ornithology in many of his courses. He teaches a first-year seminar at the Colleges titled "Bird Obsessions," a J-term/Maymester course about "Birding in our Landscape," and for Biology majors upper-level Biology courses in Ornithology and a senior seminar on migration and animal navigation.
Deutschlander holds a Ph.D. in zoology from Indiana University.