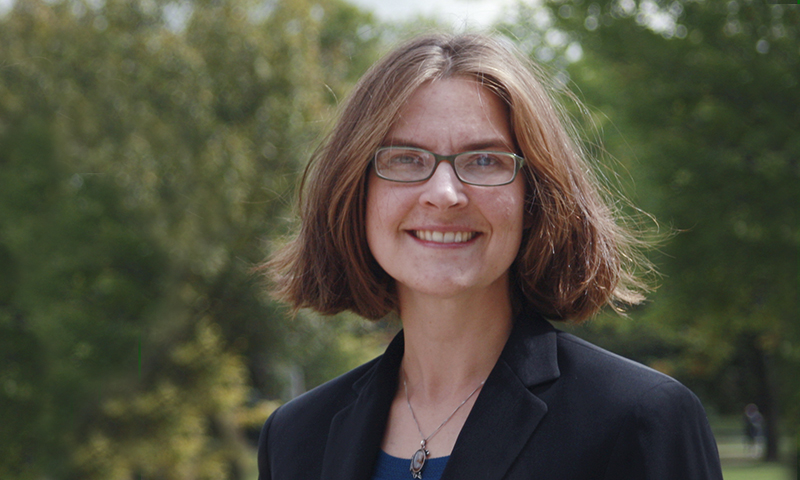 HWS News
11 January 2023 • Faculty Considering a Career in Law?
Associate Professor Beth Kinne serves as pre-law adviser, helping students explore everything from HWS' early admissions program with Cornell Law School to general questions about the legal profession.
Associate Professor of Environmental Studies Beth Kinne says she's excited to serve as the pre-law adviser and guide both students who are curious about the field and those students who are set on attending law school.
"I would like more students to consider careers in law and to consider them for a broader variety of reasons. I hope to get students interested in pursuing newer, less traditional frontiers in legal work." says Kinne, who holds a J.D. and LL.M in Asian and Comparative Law from the University of Washington. "People tend to get their ideas about what lawyers do from television and film, which is often limited to a highly dramatized courtroom, but lawyers do so many things outside of litigation that are at least as interesting."
In this role outside of the classroom, Kinne helps answer students' questions on topics like the Law Early Admissions Program with Cornell University, what law school is like, and what courses they should take if they're thinking about going to law school. Kinne also mentors students as they navigate the law school application process, prepare for the LSAT, determine where to apply and how to afford law school.
"There are a large number of law schools and many have specialties," she says. "The law school rankings don't necessarily give students all the information they need to make a good decision on what school will most likely provide them the experience they need to move into a fulfilling career."
Her first step is to work with students to help them develop an understanding of how their passions and interests might be developed in the context of a legal career, and eventually to help them translate that into a list of attributes they should look for in law school programs.
"As I've moved into this role, I've been very thankful for the support of Hobart Dean Scott Brophy, the former pre-law adviser, and also that of Brandi Ferrara in Career Services, who provides critical support our pre-law students as they search for internships that help them develop more confidence in the directions they want to go in their pursuit of a legal career. Finally, I'm thankful for our dedicated alumni who play key roles in mentoring pre-law students, speaking on campus or over Zoom and offering perspectives gained from a very rich variety of careers in law."