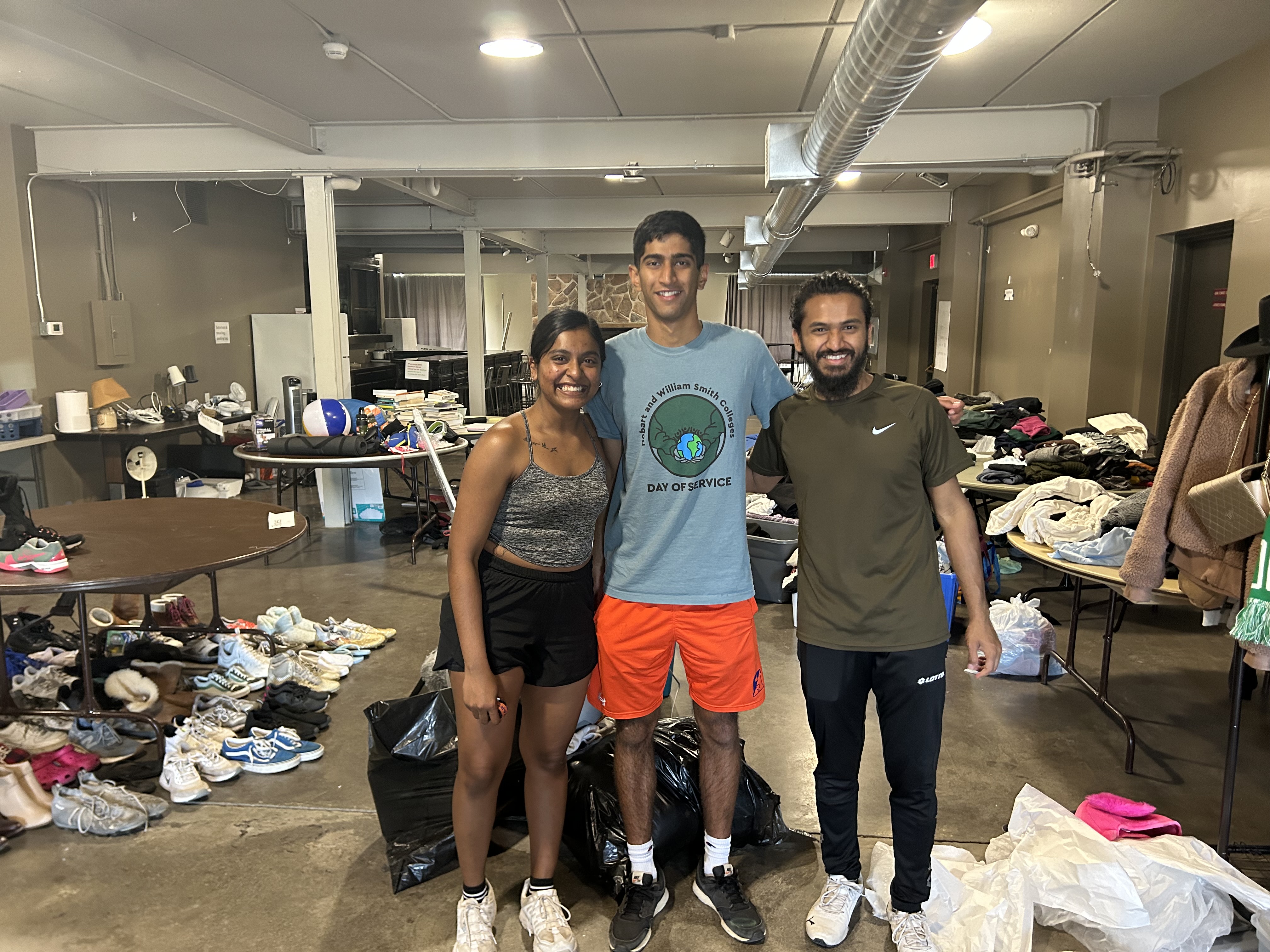 HWS News
13 June 2023 • Service Community Donation Effort Makes an Impact
This year's Community Donation Effort made waste diversion and community assistance possible, bringing school supplies, furniture and other items to local organizations.

For 17 years, the Colleges' Community Donation Effort has reallocated items at the end of the academic year from residence halls to local organizations to reduce, reuse and recycle on campus.
After receiving donations from students, Community Engagement and Service Learning (CCESL) partnered with nearly 20 local organizations to find a second home for items including furniture, clothing, school supplies, textbooks and pantry staples.
"At this point, it's become ingrained in the fabric of the HWS student experience," Assistant Director of CCESL Peter Budmen '15, MAT '16 says. "Students know and seek out the Community Donation Effort bins at the end of the year. This year, we even received phone calls as early as mid-April inquiring about where to put donations."
Participating organizations included local school districts and Bailey's Boutique, Catholic Charities of the Finger Lakes, St. Pauly Textile, Inc., the Boys and Girls Club of Geneva, Blueprint Geneva, Family Promise of Ontario County, FLACRA, The Salvation Army of Geneva, Humane Society of Yates County Shelter of Hope and more.
Budmen says staff from the organizations shared how the items will make an impact.
"One organization was glad to receive microfridges for a home they've built that is housing eight teenagers in crisis. Another organization was looking for bedding and kitchen wares to help outfit a family experiencing homelessness," he says.
Ali Smith '25, who served as a community donation steward, says, "Meeting and working with multiple organizations really highlighted the importance of being a caring and close community."
Another steward, Wes Capitani '24, says he saw the impact of the effort firsthand by... "Just seeing how much these donated items mean to those in need. One person said her house recently flooded and the ability to replace even a few items means so much."

Future plans for the Community Donation Effort include offering a donation bin in the athletic facilities for sports equipment. Budmen says a name change for the effort is also on the horizon.

"We'll continue iterating and finding ways to improve the process, but we're proud of the changes and work we complete each and every year," says Budmen.
The Community Donation Effort is a collaboration between the Center for Community Engagement and Service Learning, Student Engagement, and the Office of Sustainability. This year, William Smith Congress and Hobart Student Government generously supported the effort with funds to provide the community donation stewards with meals and a stipend as well as operational expenses.

Along with HWS students, members of the College Experience Team at HWS with Ontario ARC helped fold, sort and pack items.

College Experience Coordinator Brian Whitley reflected on ARC's involvement. "The ARC College Experience had a great time over the last three weeks participating. The students really looked forward to being involved and took pride in the work that they completed. It provides our students the opportunity to exercise their gifts and talents as well as allowing them to feel a part of this great collegiate culture."

HWS Buildings and Grounds and Purchasing Manager Steve Spychalski supported the effort with material donations.
View CCESL's Community Donation Effort report here.
For additional information or to be involved with the Community Donation Effort next year visit the CCESL webpage or email serve@hws.edu.