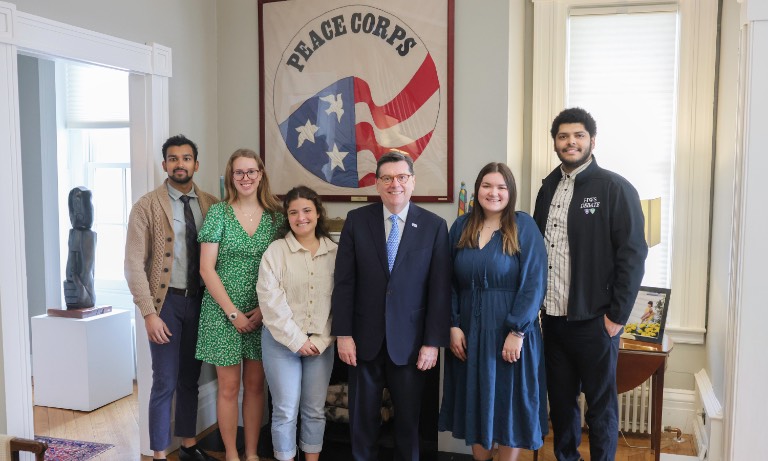 HWS News
24 May 2023 • Service Brachfeld '23 Joins Peace Corps By Colin Spencer '19
Public service commitment will combine passion for environmental protection awareness and cultural understanding.
Emma Brachfeld '23, an Environmental Studies major and a Biology and Spanish & Hispanic Studies minor, is the fifth Hobart and William Smith senior this year to be accepted into the Peace Corps. Brachfeld will serve as Community Environmental Promoter in Paraguay.
In her role, Brachfeld will educate children on effective environmental stewardship and join with those in the heavy agricultural-based communities to adopt practices to aid tree repopulation. The assignment is similar to her study abroad experience in Costa Rica during the spring semester of her junior year. At field stations in Costa Rica, she was introduced to a wide range of activities revolving around environmental recovery programs, species management and community conservation. Additionally, she lived with a family who did not speak English, helping her to become more fluent in Spanish.
Brachfeld joins four other seniors from HWS entering the Peace Corps.
"I believe that both of the traits that I value, my passion for helping others and my knowledge of Spanish, will help create a unique and rewarding opportunity not only for myself but for those that I am able to interact with," says Brachfeld, a Saratoga Springs, N.Y. native, whose mother, Judy Beck is a former Peace Corps Volunteer who served in Honduras.
"My mother's never-ending stories were an inspiration for me – a dream of travel that I couldn't wait to be able to accomplish once I was old enough," says Brachfeld.
The Spanish language has also been a part of Brachfeld's life. When she was 10 years old, her father accepted a job as a mental health provider on the U.S. Naval Base in Rota, Spain and her family relocated there for three years. While there, Brachfeld attended a Spanish public school where she was immersed in the language and culture.
Outside of her coursework, Brachfeld is a member of the Hillel student board serving as the "Tikkun Olam" member which oversees initiatives to help repair and protect the world.
On campus, Brachfeld also works as an assistant lab technician at the Finger Lakes Institute where she researches mercury concentration in fish in Seneca Lake. She also held internships at Saratoga Hospital and Saratoga Race Course Backstretch Employee Service Team.
Hobart and William Smith have a longstanding connection to the Peace Corps. Since its founding in 1961, approximately 250 HWS alums have traveled abroad to serve as volunteers with the Peace Corps.
Top: HWS students serving in the Peace Corps surround President Mark D. Gearan (center): Hrithik Biswas '23, Johanna Golden '23, Emma Brachfeld '23, Kate Equinozzi '23 and Sam Calderon '23.