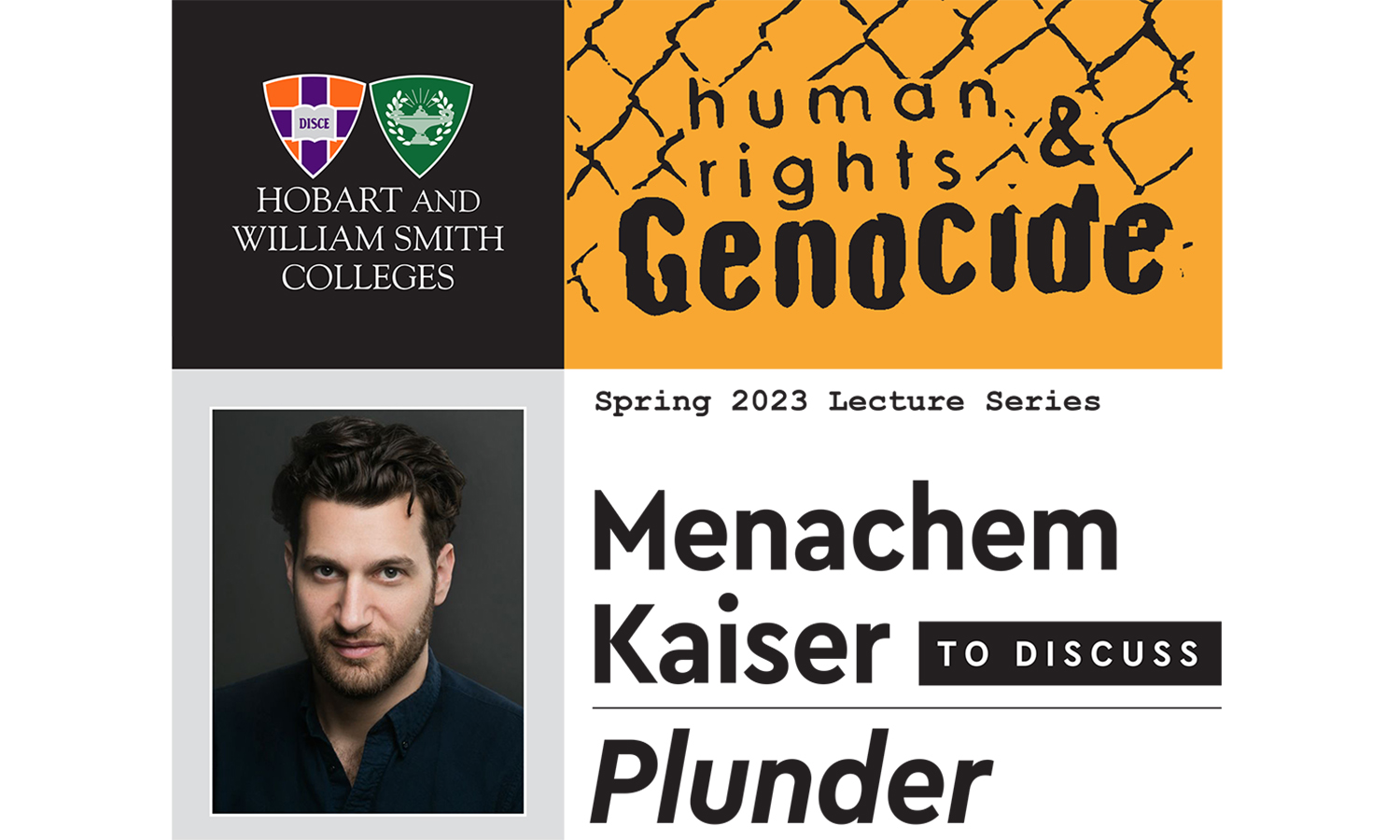 HWS News
21 February 2023

Plunder: A Memoir of Family Property and Nazi Treasure

Author of New York Times Best Book to Deliver Talk on campus.

Menachem Kaiser, author of Plunder, the New York Times Critics Best Book of 2021 and the nonfiction Sami Rohr Prize for Jewish Literature of 2022, is set to visit campus for a talk hosted by the Human Rights and Genocide Symposium.

On Tuesday, Feb. 28, Kaiser will deliver a public talk in the Geneva Room of the Warren Hunting Smith Library beginning at 7:30 p.m.

Through Plunder, Kaiser details his grandfather's battle as a Holocaust survivor to reclaim the family's apartment building in the city of Sosnowiec, Poland.

Professor of Religious Studies Richard Salter, who is coordinating the visit, says the work is complex. "The book is partly a memoir, partly a story of Kaiser's search for family property lost in Poland during the Holocaust, and partly a profound reflection on belonging and justice," says Salter.

The New York Times describes the work as a book that "tells a twisting and reverberant and consistently enthralling story. It's a weird story that gets weirder."

The Sami Rohr Prize for Jewish Literature is an annual award that recognizes the unique role of contemporary writers in the examination and transmission of the Jewish experience. Kaiser's work has also appeared in the Wall Street Journal, The Atlantic, the European Review of Books and more. Born in Toronto, he currently lives in Brooklyn. He holds an MFA degree in fiction from the University of Michigan and was a Fulbright Fellow to Lithuania.

The Human Rights and Genocide Symposium is a speaker and event series that explores a continuum of life-annihilating events and processes in our contemporary world. The symposium is generously funded by Dr. Edward P. Franks '72.