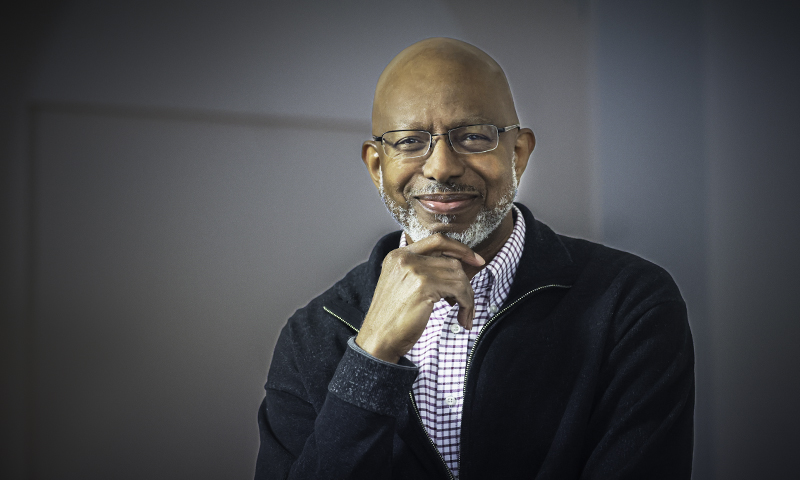 HWS News
20 March 2023

Colleges Welcome Woodson as VP of DEI By Andrew Wickenden '09

Vice President of Diversity, Equity, and Inclusion Bill Woodson shares first impressions of HWS and considers the relationship between diversity and belonging, and institutional success.

Hobart and William Smith's new Vice President for Diversity, Equity and Inclusion Bill Woodson is eager to implement a vision of DEI where members of the community are empowered to contribute and there are "clear connections between diversity, equity and inclusion and the mission of the institution."

An experienced academic administrator with a broad background that includes management consulting, public service and two decades in Fortune 500 companies, Woodson comes to HWS from New College of Florida, the state's designated public honors college. At New College, he established the Office of Outreach and Inclusive Excellence, managed a Mellon Foundation arts and humanities grant, and co-authored a regional foundation grant proposal that funded the Access Leadership initiative and underwrote the Barancik Scholarship, programs that supported high potential, low-income students from the surrounding community.

A passionate champion for bridge building, diversity and inclusion, and liberal arts education, Woodson was previously an administrator at the University of St. Thomas in Minnesota where he led four graduate business programs as well as graduate business career services and served as the university's first assistant dean for community outreach. He earned his undergraduate degree in urban studies from Brown University, a master's in city and regional planning from Harvard University's Kennedy School of Government, an M.B.A. from the University of Michigan and a Ph.D. in Organizational Leadership from the University of Minnesota.

What have been some of your first impressions of HWS and Geneva?

I'm really pleased to be here. I feel the warmth from the community and my sense is that people are excited about my being on campus as a resource to support this mission. There's a history of institutional appreciation for DEI here, and I appreciate that as well. I'm coming from a public liberal arts college in the state of Florida, where I was the first Chief Diversity Officer. I created the office with four really talented professionals, and it was a great opportunity, but it was also building from scratch. Here, there's already an infrastructure in place — an office, an understanding of the mission, and lots of collaborators and supporters outside of the office with a long history of contributing to diversity, equity and inclusion for the Colleges.

Can you describe your approach to the work of diversity, equity and inclusion?

Diversity, equity and inclusion as a discipline is something I've had the pleasure of watching emerge over the years. Most of my professional life has been in spaces other than DEI, which is true for almost anybody from my generation. I'm deeply respectful of those who come to the work with a social justice lens, in recognition of historic inequities based on race, gender, gender identity, sexual orientation and ability; it was that lens that really created the space and the energy, and helped us have the resources to do this work today.

I was drawn to it from a standpoint of helping individuals be more effective and helping organizations be more successful. I think to sustain the work, to continue to make it relevant to organizations, and to keep that commitment at both the personal level and institutional leadership level, you need to be able to draw clear connections between diversity, equity and inclusion and the mission of the institution. And that is the way that I approach this work. I want to help the institution be even better at what it does, because if the institution is healthy, it has more resources to invest in lifting up the underserved; it becomes a more attractive place for people from a more diverse background.

Your academic and professional background is impressively wide-ranging. How does that range of experience — in marketing in the corporate sector, urban studies and city planning, and academic administration — inform your work in DEI in higher ed?

The largest chunk of my career was in marketing and business development, which gave me a lot of tools to move the mission of DEI work forward. We have a value proposition here at Hobart and William Smith Colleges: we provide a world class education and an intimate, liberal arts setting that really empowers the individual learner to be an active agent in their education. That's marketing language, but it's a language that I think can help everyone see their role in creating that high quality educational experience. Whether from an operational standpoint or from an admissions standpoint, we should all be able to see what our role can be in contributing to that more inclusive community and how we benefit. We should all be stakeholders in creating a diverse, more equitable, more inclusive institution, so that we can attract the best quality students, faculty and staff — and so they feel like there's real equity in how we invest in all aspects of what it takes to make the Hobart William Smith experience happen.

Moving from the institutional level to the individual, what are some of your key areas of focus?

So much of the work of diversity, equity inclusion is about identifying and supporting marginalized or underserved identities — those folks alongside us who may be having a different experience or may be encountering different challenges because of their identities and how our society has responded to those identities. My approach is also about empowering them to be more effective in their self-advocacy, to see more opportunities for them to collaborate and support other marginalized identities.

What excites you most about this new role? Where do you see challenges?

I see a lot of different pockets of advocacy for DEI work at Hobart and William Smith. There's a lot of activity, but I don't know that there's a sense of progression or clarity around where we're trying to go long term, or how it all connects to institutional priorities and expectations. I want to bring a bit more focus in terms of where we're going as institution and how the investments of time and resources from each member of the community are helping us get there.

I've had enough conversations with students, in particular students of color, to know that we also have challenges around creating inclusive spaces and working collaboratively across lines of difference. There's work to be done to engage non-marginalized identities in the roles they can play in creating a more inclusive environment for peers and colleagues of different backgrounds. It's important that everyone sees their stake and their role in making Hobart William Smith Colleges an inclusive place.