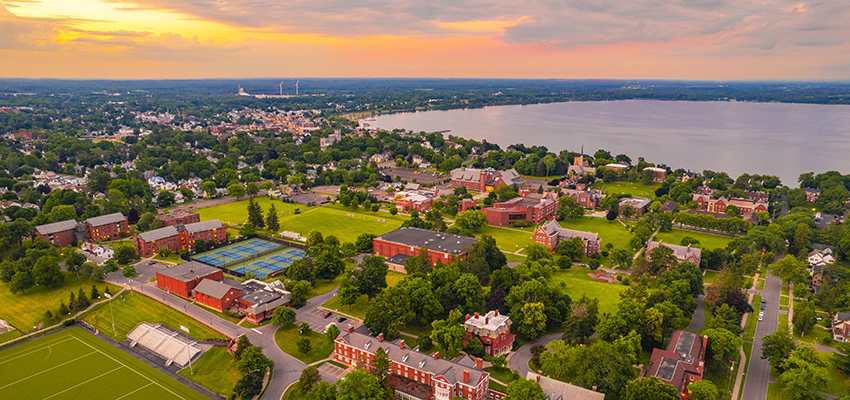 HWS News
2 March 2023

HWS Boost Economy with $200M Economic Impact

Between institutional operations, students, visitors and employees, Hobart and William Smith's economic impact totaled more than $200 million.

A recent independent study assessing the economic impact of Hobart and William Smith Colleges found that HWS boosted the area economy by more than $200,900,000 during the 2020-2021 assessment period. The total economic impact includes spending on research and development, construction, technology, salaries and other operating expenses, plus the impact of spending by students and visitors in the community.

"Hobart and William Smith enjoy a strong partnership with the City of Geneva and communities in the Finger Lakes Region, and we are committed to investing in the people and places that have been our host and home for 200 years," says President Mark D. Gearan. "I look forward to building on the relationships that have produced so many extraordinary opportunities for our campus and our neighbors."

The independent study was conducted by the Council of Independent Colleges and Universities, a membership association of more than 100 private, nonprofit colleges and universities in New York State that educate more than 450,000 students. The 2020-21 report details that independent colleges and universities in New York State contributed an estimated $95 billion to the state's economy in 2020-21. Directly and indirectly, the state's independent sector supported 403,000 jobs, with a combined payroll of almost $30 billion.

The analysis indicates Hobart and William Smith's $182,700,000 institutional impact, which includes spending on research, construction, instruction, technology, salaries and other operating expenses as well as $18,200,000 student and visitor impact, which includes discretionary spending by students as well as expenditures by campus visitors.

In addition to these impacts, students contribute more than 80,000 hours of community service and engagement annually in Geneva and the Finger Lakes region and generate approximately $110,000 in fundraising efforts that are directed to non-profit organizations.