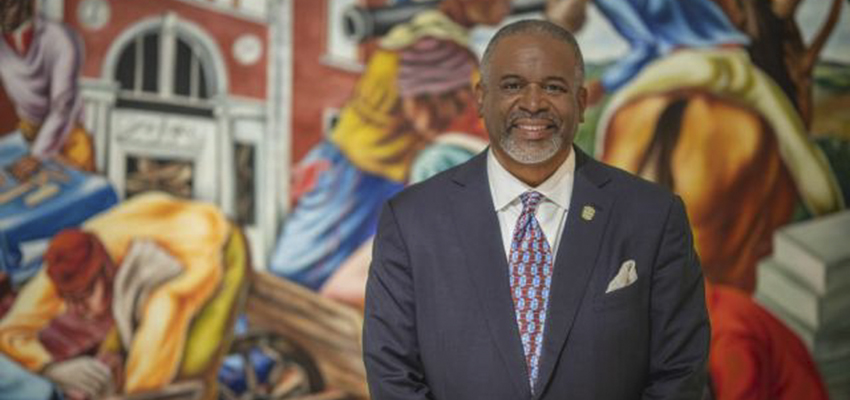 HWS News
1 April 2022 • Alums Vincent '83 Named President of Talladega College
Vincent to lead Alabama's oldest private and historically black liberal arts college.
Gregory J. Vincent '83 has been named the 21st President of Talladega College. An acclaimed civil rights attorney, professor and former HWS President, Vincent currently serves as the Executive Director of the University of Kentucky Civil Rights and Education Initiative in collaboration with the NAACP. He is also a professor at the UK Department of Educational Policy Studies and Evaluation.
Founded in 1867, Talladega College is Alabama's oldest private and historically black liberal arts college.
In a video introduction to the Talladega community, Vincent reflected on the transformative power of a Talladega education.
"I think about the newly freed men who had the vision and commitment and courage to establish an institution and educate generations to come – and to see that over 150 years later – that mission is still being executed with enthusiasm. Understanding the sacred nature of that vision is very powerful to me and it is inspiring. My goal is to take that vision, take that commitment, take that courage, and empower future generations," Vincent said.
Vincent's scholarship and teaching explore issues of educational equity and access, as well as diversity in higher education, engagement between communities and universities, and workplace discrimination.
Vincent joined the University of Kentucky in 2020 following his tenure as the 48th Grand Sire Archon (CEO and Chairman) of Sigma Pi Phi Fraternity (The Boulé), the nation's oldest, Black Greek-lettered organization. Serving in that role from 2018 to 2020, Vincent executed the Fraternity's strategic plan and implemented robust agendas around social action, growth and expansion, and consequential philanthropy on behalf of Black people in the U.S. and the African diaspora.
He joined Hobart and William Smith Colleges as President in 2017 after serving at The University of Texas at Austin as vice president for diversity and community engagement, W.K. Kellogg Professor of Community College Leadership and Professor of Law. In 2016, Vincent played a major role in the case of Fisher v. University of Texas, in which the Supreme Court ruled to uphold the use of affirmative action in higher education.