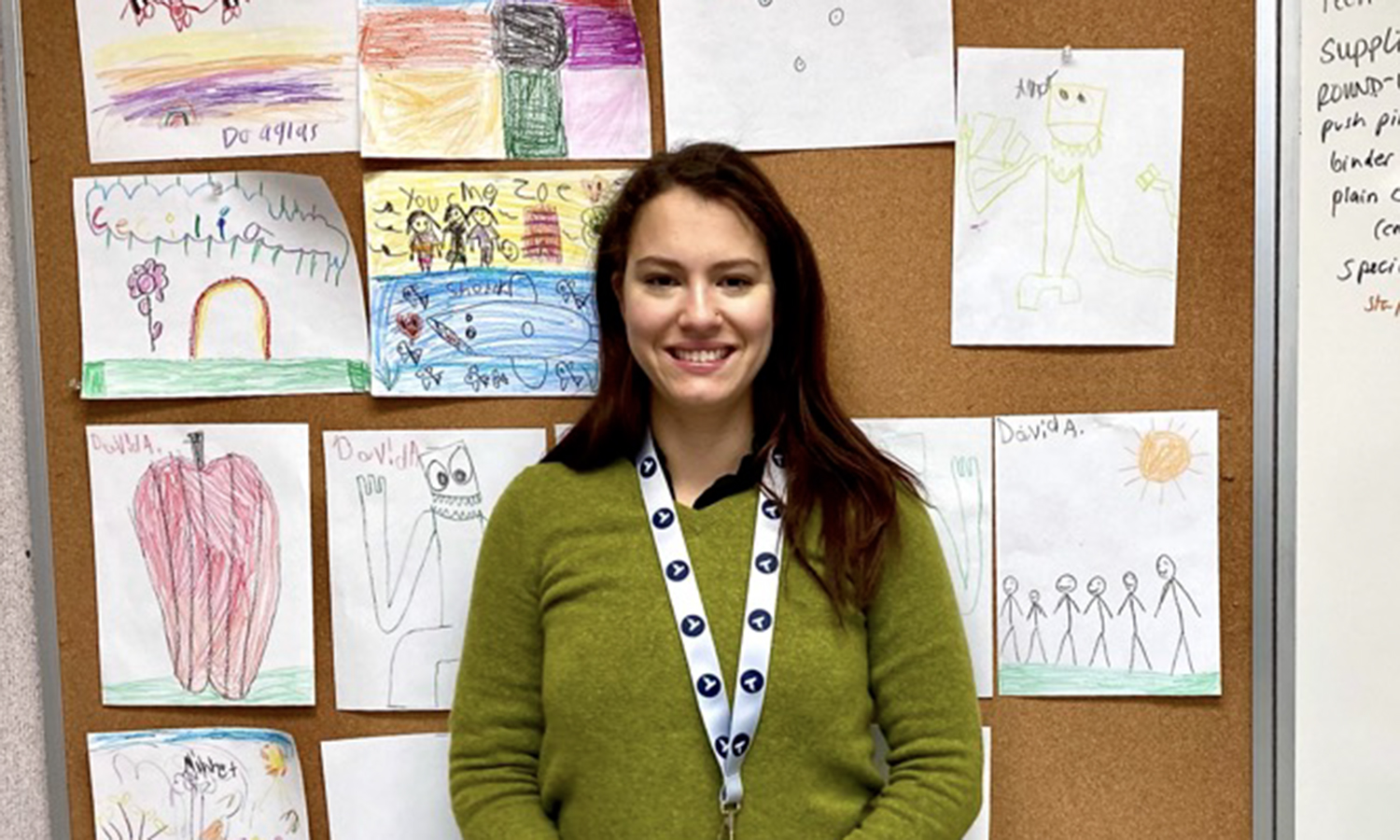 HWS News
29 November 2022 • Alums Teaching Young Readers By Colin Spencer '19
Answering a call to work one-on-one with students, Isabelle Jeppsen '21 has landed a position with AmeriCorps as a tutor for Literacy Lab.
As an AmeriCorps tutor, Isabelle Jeppsen '21 says she is eager to help students in kindergarten to third grade with their reading through intervention activities at Literacy Lab in Washington, D.C.
"I'm very enthusiastic," says Jeppsen, who credits her time at HWS with preparing her for this new position.
At HWS, she majored in Educational Studies and minored in Child Advocacy, both with a focus on disabilities. She says one Educational Studies course in particular, "Human Growth and Development," created a foundation for teaching through discussion topics such as focusing on the whole child, children's milestones and developmental needs.
She says that other academic areas like Religious Studies, English and Anthropology allowed her to explore disabilities from multiple perspectives. Outside of the classroom, she lived in the Guiding Eyes house, was a co-president of HWS' chapter of Project Eye-to-Eye, a Study Table Facilitator for English 114: Health, Sickness and Disabilty and a member of Random Acts of Kindness club and Rotaract club. In addition, she attended the HWS Alternative Spring Break at Mariam Boyd School in North Carolina, volunteered to serve meals during Neighbor's Night, wrote for Her Campus, was a co-leader of the Colleges' Pen Pal program with third-graders, and acted in the Department of Theatre's production of The Servant of Two Masters. Additionally, she was the president of the Colleges' running club.
"I have been able to use my liberal arts experience to talk about education and disabilities in my work," she says.
After graduating magna cum laude from HWS, Jeppsen served as a fellow at The Stanley British Primary School in Colorado where she was a K-2 Teaching Fellow. Within this role, she assisted two co-teachers in a classroom of 30 students. These duties ranged from assisting with the particular subjects such as: reading, math, music, international studies and art. After the completion of the program, Jeppsen moved back to her home in Washington, D.C.
Top: Isabelle Jeppsen '21 show at her position as a Literacy Lab tutor. Photo by Crystal Ettridge.