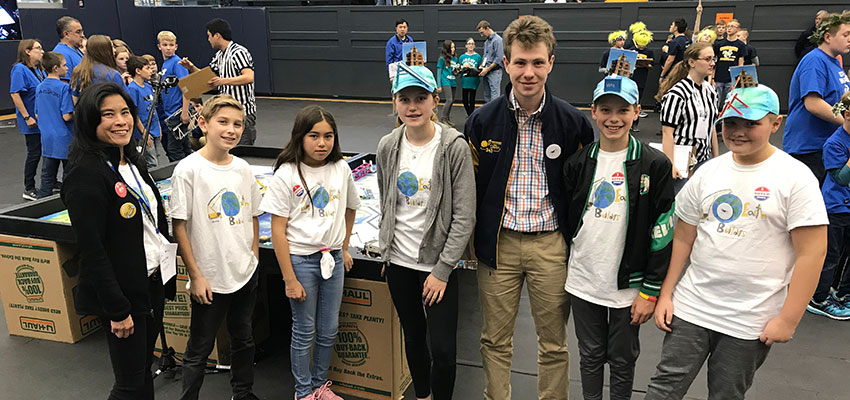 HWS News
9 January 2020 • STEM Tate '23 Coaches Robotics Team
With seven years of experience as a member and leader of FIRST LEGO League (FLL) teams, Joseph Tate '23 was a natural candidate when FLL Coach Sandra Chu decided to start a team for Geneva school children. Chu, who also serves as head coach of the William Smith rowing team, hired Tate to co-coach the Geneva Robotics team with her.
FIRST LEGO League is an international organization that challenges elementary and middle school students to design and build LEGO-block-based robots while gaining aptitude in STEM fields as well as communications, team building and problem-solving. Students aged 9-13 work throughout the year on their robots, followed by competitions at regional and higher levels.
Tate's experience with the FLL had progressed from team membership to leadership in his years with the organization. "[I was a member of] Team 341 Miss Daisy from Wissahickon High School," says the Ambler, Pa., native. "I worked with the marketing team in expanding outreach and established a FIRST LEGO League curriculum in the district. I guided students in coming up with outreach ideas, creating documentation and a safety program."
Working with Chu and two other coaches Stephanie Annear, who formerly worked in the HWS Career Services office and Christine Bennett West '94, who served in the HWS Office of the President, Tate guided the first-year Geneva team to a successful completion of their season. In their qualifying tournament, the team earned a championship trophy and became eligible for regional championships, held at University of Rochester.
"[Joes] skill set as an experienced FLL student, coach and judge were invaluable," says Chu. "Hes been a strong addition to our staff and definitely enabled us to accomplish much more than I thought possible this year."
The FLL program, says Tate, allows children to apply the lessons learned in the classroom in a practical and concrete way. "School is great for learning concepts like multiplication and finding the circumference of a circle," he says. What FIRST does is enforces these concepts in an environment that engages more of the mind, thus making the content sink in more because it has meaning for the kids.
Tate, who intends to declare a double major in environmental studies and economics or math, says that his involvement in FLL has helped him to learn how to interact with and teach children. It has also allowed him to become immersed in the world outside of HWS, as he has interacted with Genevans from the city manager to grade school parents.
"Geneva has become my second home where I recognize faces and know the little bits of knowledge that build into a sense of belonging in the community," he says.