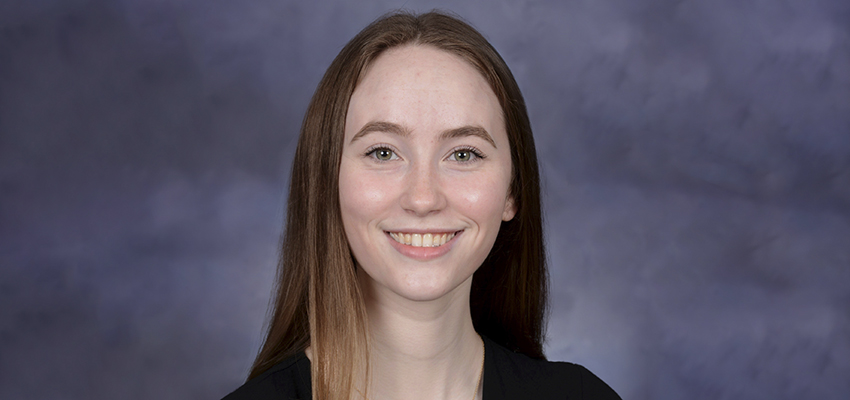 HWS News
17 June 2022 • STEM Rundlett '22 Accepted to University of Connecticut School of Dental Medicine
Emily Rundlett '22, who graduated cum laude with a B.S. in chemistry, will attend the University of Connecticut School of Dental Medicine in the fall.
After taking advantage of many academic opportunities at HWS during her four years, Emily Rundlett '22 believes "HWS prepared me very well for graduate school." She'll begin her studies at Connecticut School of Dental Medicine this fall.
As a first-year student in Associate Professor of Physics Leslie Hebb's class "Playground Physics," Rundlett recalls looking at physics and experimentation through a new lens examining the science behind rockets, roller coasters and billiards.
Under the direction of Associate Professor of Chemistry Kristin Slade, she studied how a crowded cellular environment alters enzyme function and presented her work at the American Society of Biochemistry and Molecular Biology conference in Philadelphia, Penn. The work was completed as a part of the Colleges' Summer Research Program in 2020 and 2021. The research "cultivated my curiosity in the field of chemistry and allowed me to obtain invaluable technical and intellectual skills," she says.
When she came to HWS, Rundlett says she knew she wanted to go to dental school but did not plan to major in chemistry. "Accelerated General Chemistry" was a "pivotal" moment in defining her major. "All of the faculty in the Chemistry Department have high standards that helped me reach my fullest potential," Rundlett says.
As a Pre-Health student, she utilized support from Scott MacPhail, Associate Director of Health Professions Counseling and Fellowship Advising, who assisted with selecting classes, dental school applications and helping her to tap into the "amazing network" of HWS alums.
On campus, Rundlett served as house manager of the STEM House for the 2020-2021 academic year, where she helped to organize events with local schools, as well as food drives. For two years, she worked as an Organic Chemistry Teaching Fellow. She also has participated in the Kinetic Dance Collective and Days of Service.