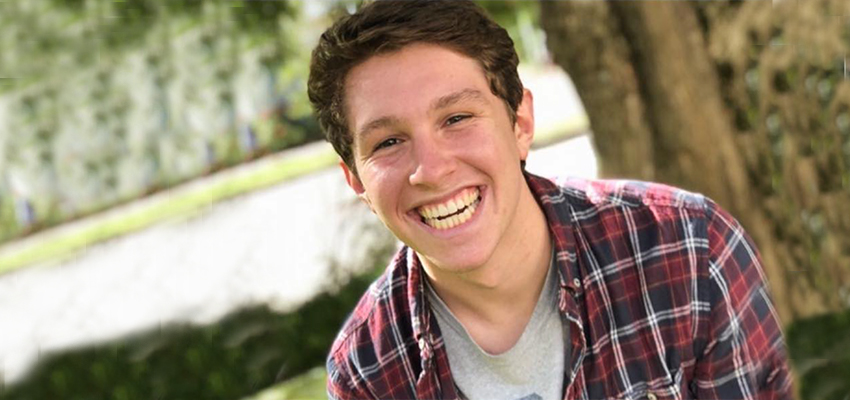 HWS News
5 May 2022

Morris '19 Receives Scholarship to Northeastern Law School

Mentorship at HWS leads to a career in social justice.

Dylan Morris '19 developed a passion for social justice and creating change while studying sociology at HWS. He's now one step closer to making that a career. Morris recently learned that he is a Law, Equity and Race Scholarship recipient at Northeastern University School of Law.

The full-tuition scholarship is awarded to students "interested in pursuing careers in the field of race, equity and law, specifically civil rights and restorative justice and criminal justice reform,"

according to the scholarship. Recipients also receive a $2,000 stipend and opportunities to work with the university's Center for Law, Equity and Race.

"It is an absolute honor to receive such a generous and meaningful scholarship," says Morris. "The core of what the Scholarship represents – equity through reform and social justice – encapsulates exactly what I wish to pursue. I did not realize that accessing law school with no student debt was actually feasible, so I am also relieved and grateful to be able to pursue work in the public interest sector without having to worry about student loans."

He credits his former adviser Professor of Sociology Renee Monson for his success.

"Professor Monson's ability to recognize my potential and push me closer to reaching it, coupled with her unwavering desire to see her students succeed, allowed me to ultimately have greater confidence in myself and my abilities. After my graduation, Professor Monson continued her support and has been instrumental through my process," says Morris.

Three courses – "Foundations in Social Justice," "Dialogues for Community and Change" and "Soccer: Around the World with the Beautiful Game" – were seminal in his education of the injustices and inequalities throughout societies and how to create change.

His goals post-law school are to serve as an attorney for an organization that represents unjustly imprisoned individuals and creates meaningful criminal justice reform or working with and representing youth in the juvenile justice system.

Morris works as a paralegal with COVID evictions at Northeast Legal Aid near Boston. In this role, Morris is part of a team that provides free legal services for underserved populations facing illegal or unjust evictions from their homes.

After graduating from HWS, Morris moved to Vietnam to teach English, gaining exposure to a new country and culture, before returning to the United States. He then volunteered at Northeast Legal Aidin the greater Boston area, which led to his full-time position.

As a student, Morris participated in Model African Union where he attended annual trips to the National Model African Union in Washington, D.C. In addition to studying sociology, he minored in social justice studies.