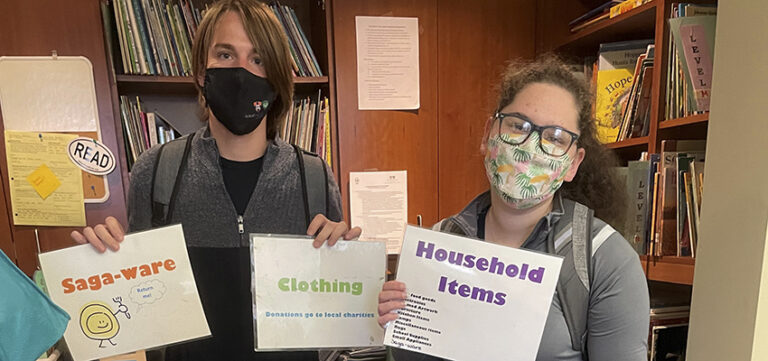 HWS News
3 May 2022 • Service HWS Community Donation Effort Underway
The Colleges have begun collecting donations of gently used items from students as they prepare to leave campus. Local non-profit organizations are encouraged to sign up now to receive those donations.
The Center for Community Engagement and Service Learning has begun its annual collection of donations from students as they prepare to leave campus. Local organizations who are looking to receive the donated goods, ranging from clothing, personal items, electronics and furniture, are asked to contact serve@hws.edu by May 13.
Since its inception in 2011, the annual effort has led to more than $100,000 in donations and diverted 122,000 pounds of goods from local landfills. In past years, the Rescue Mission, Center of Concern, Salvation Army, Family Promise, St. Paul's, Geneva City School District and Ontario County Justice Coalition have participated.
"The constant thread from year to year is ensuring that donations made by students find a second use," says CCESL Assistant Director Peter Budmen '15, MAT'16. "We're hopeful local non-profit organizations in Wayne, Seneca, Ontario and Yates Counties sign up again this year."
Community organizations who are interested in receiving donations should email serve@hws.edu expressing an interest. The schedule of dates and times that items can be picked up can be viewed here.
Students can place items in bins located on the first floor of their residence hall. Next week, two Averdi storage containers will be placed in the Odells and JPR parking lots. In addition, students can call (315) 217-1719 to leave a message to have a donation picked up.
James Anderson '23, who helped last year and is one of 10 Community Stewards hired for 2022, supports the environmental impact of the event. "The community donation effort is a great way to reallocate items from campus and provide for the local community. For students, this effort has a significant positive impact on the environment and community," he says.