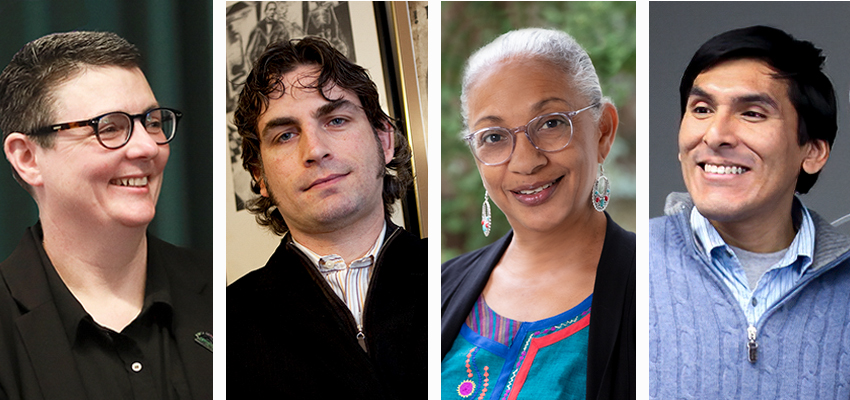 HWS News
18 July 2022 • Faculty Faculty Honored for Teaching, Scholarship, Service and Inclusion By Andy Wickenden '09
Associate Professor of Chemistry Christine de Denus P'22, Assistant Professor of History Janette Gayle, Associate Professor of History Colby Ristow and Associate Professor of Spanish and Hispanic Studies Fernando Rodriguez-Mansilla are the recipients of the 2022 Faculty Prizes. Based on the recommendations of fellow HWS faculty members, the Committee on Faculty Research and Honors selected de Denus, Gayle, Ristow and Rodriguez-Mansilla for their respective contributions to service, diversity and inclusion, teaching and scholarship.
In 1999, de Denus joined the faculty and has been immersed in the community. An organometallic chemist, she teaches introductory, organic, inorganic, structural analysis and forensic chemistry as well as first-year seminar courses on a regular basis. In addition to her teaching duties, she is the Director of the First Generation Initiative and has served students and faculty in a range of positions, from her committee service to her tenure as Associate Dean of Faculty and Associate Provost to her decade-plus service as a faculty athletic fellow. De Denus is involved in additional efforts surrounding Title IX and Bystander trainings, Division III athletics, and LGBTQ+ education and policy changes. De Denus earned a Ph.D. in chemistry from the University of Manitoba and a B.S. in chemistry from the University of Winnipeg and spent two years as a post-doctoral fellow at the Pennsylvania State University conducting research in polymer chemistry.
In the faculty prize for service, de Denus' colleagues noted her eagerness to collaborate, her willingness "to step up to serve time and time and time and time and time again," and her understanding "that each little interaction with a student can make a big difference."
Gayle has authored a number of journal articles on labor, race and civil rights and has brought this work to bear on discussions about equity and justice within the HWS and Geneva communities. Her work focuses on a historical analysis of race, gender and migration, with an emphasis on labor in America during the late 19th and early 20th centuries. Gayle is the lead researcher on the Mapping Harlem Digital Project, which uses data to map black migrant settlement patterns and neighborhood formation in Harlem during the first half of the 20th century. Her current book project explores the unsung impacts of women of color who fought against exploitation in the garment industry and racial discrimination in the International Ladies' Garment Workers' Union. Gayle, who joined the HWS faculty in 2016, has given vital perspective at campus and community forums addressing racial justice and police violence, and she has been an outspoken advocate for reform in Geneva. She holds a Ph.D. from University of Chicago, M.A. from the University of California Los Angeles, and a B.A. from Antioch University of Southern California.
Gayle's diversity and inclusion citation noted the ways in which her "dedication to rethinking belonging and reorienting how especially minority communities imagine themselves also informs most of Professor Gayle's community service.… Embodying and exemplifying the finest traditions of scholar-activism, Professor Gayle utilizes her pedagogical philosophy, scholarship and community service to foster a greater sense of belonging, and to make visible the litany of injustices, violences and exclusions that continue to plague our present, both at the Colleges and beyond."
Ristow, who joined the Colleges in 2007, regularly teaches courses including "Modern Mexico," "Colonial Latin American," "Gender and Nation in Latin America" and "Human Rights and U.S. Intervention in Central America." He is the author of A Revolution Unfinished: The Chegomista Rebellion and the Limits of Revolutionary Democracy in Juchitán, Oaxaca. His research focusing on Latin America has been published in journals including Journal of Social History and The Oxford Handbook of Mexican History, among others. Currently the chair of History Department, Ristow served as the co-director of the Colleges' Social Justice Studies Program and on the steering committee for the Fisher Center for the Study of Gender and Justice. Ristow earned a B.A. and M.A. from Michigan State University and a Ph.D. from the University of Chicago.
In his citation for teaching, Ristow's colleagues note that he "is funny and empathetic and has a true gift for communicating effortlessly with a diverse range of people. And all this on top of being a meticulous scholar, with, among other things, an innovative and highly lauded book on the Mexican Revolution to his credit. But not least, [he] has worked hard to keep Latin American studies vibrant at HWS."
Rodriguez-Mansilla is an expert on Spanish Golden Age narratives and poetry, picaresque novels and Spanish philology. The author of several books, including Picaresca femenina de Alonso de Castillo Solórzano, and numerous peer reviewed articles and book reviews, Rodríguez-Mansilla holds a Licenciatura from Pontificia Universidad Católica del Perú; and a Ph.D. from Universidad de Navarra, in Pamplona, Spain. He has delivered lectures and presentations to conference and university audiences around the world. His article "La media rota de Alonso Quijano" received the Luis Andrés Murillo Award for the best article of 2014 from the Cervantes Society of America. He is the current editor of Calíope, the journal of the Society for Renaissance and Baroque Hispanic Poetry. In addition to Spanish literature, Rodríguez-Mansilla teaches courses at HWS on Spanish language, grammar and composition, as well as in issues in Hispanic media.
Citing his wholehearted belief in the humanities, Rodriguez-Mansilla's colleagues frame his scholarship as that of "an investigative wanderer who shares his scholarly pursuits to all who will listen, be they administrators, colleagues, chaplains, students, innkeepers or goat-herders.… He valiantly goes forth into the archives, vanquishing humanities' foes, upholding honor and dignity and restoring lost values to the liberal arts."
The photo above (L to R) features de Denus, Ristow, Gayle, Professor of Chemistry Christine de Denus P'22, Associate Professor of History Colby Ristow, Assistant Professor of History Janette Gayle and Associate Professor of Spanish and Hispanic Studies Fernando Rodriguez-Mansilla.