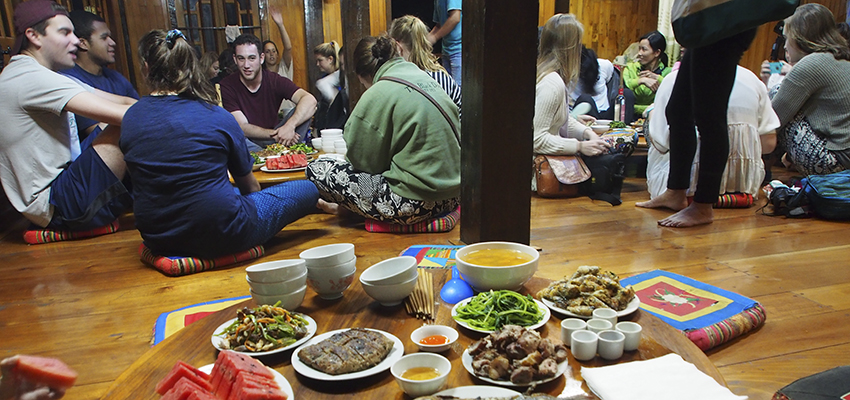 HWS News
9 September 2022

Contemporary Vietnamese Cuisine

Associate Professor of Anthropology Christopher Annear and Professor of Sociology Jack Harris P'02, P'06 are featured in a new book about contemporary Vietnam.

Associate Professor of Anthropology Christopher Annear and Professor of Sociology Jack Harris P'02, P'06 collaborated on the topic of Vietnamese cuisine for a chapter in the Routledge Handbook of Contemporary Vietnam. The book explores the past 30 years of the country through different lenses including political, social, economic and cultural, providing a reference point for contemporary understandings for decades.

Harris and Annear's chapter, "Contemporary Vietnamese Cuisine 1," explores Vietnamese cuisines and whether there is an identifiably Vietnamese national cuisine, one in which the ingredients, recipes and/or dishes socially, culturally and politically unite Vietnamese people.

"We argue that contemporary Vietnamese cuisine is not the food of the nation, however much it might be represented as such," the authors say in the abstract. "It is the culinary work of the people who constitute the country of Vietnam – their lands, migrations, histories and politics."

Harris is also featured in a chapter with Linh Khanh Nguyen '04, an Assistant Professor of Vietnamese of California State University, Fullerton on the prevalence of male extramarital affairs, the social context around it and the Vietnamese social constructions of masculinity, femininity and male and female sexuality. She is also the Vietnam Studies Program Coordinator at the university.

Nguyen graduated cum laude with a Bachelor of Arts in sociology from William Smith and worked with Harris on an Honors project focused on Vietnamese masculinity. She holds master's and doctorate degrees in antrhopology from Syracuse University.

Annear earned a bachelor's in cultural anthropology from Hampshire College and a master's and doctorate in sociocultural anthropology from Boston University. His scholarly interests include culinary diversity, food production systems around the world, the political ecology of freshwater fisheries and Zambia. He joined the HWS faculty in 2011.

Harris' research focuses on men and masculinity in Vietnam and the experience of Vietnamese as they go through massive economic and social change. As an applied sociologist, Harris consults with local governments across the United States on business process reengineering, change management, and municipal information technology. He holds a B.A. from Tulane University and M.A. and Ph.D. from the University of Pennsylvania. Harris joined the HWS faculty in 1974.