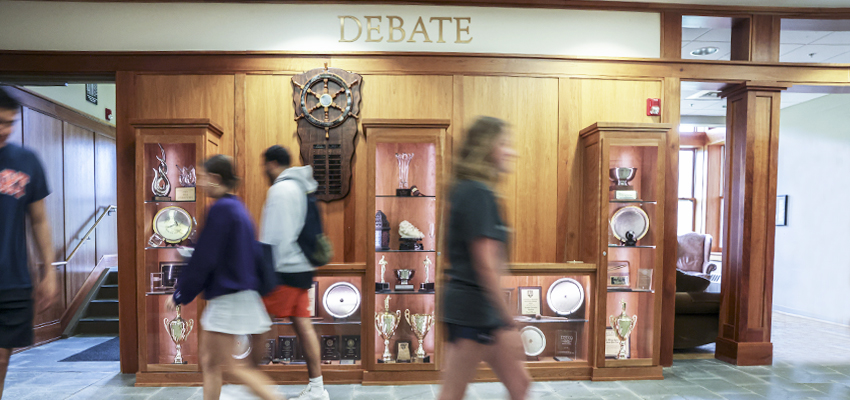 HWS News
14 July 2022 • Alums Cohen '81 Donates HWS Debate Case By Colin Spencer '19
Keith Cohen '81 says the well-rounded, liberal arts education he received as a student at HWS helped make him a successful trial attorney. To show his appreciation, he has funded a display case for the HWS Debate Team's trophies, awards, photos and other historical items.
Proud of the achievement of the now world-renowned team, Cohen says debate and discussion are crucial for his profession, as he works to resolve cases by investigating and presenting facts to juries, judges, arbitrators and mediators but is also important to a functioning democracy and life in general. With Cohen's donation, the illuminated display case has been established on the first floor of Stern Hall, a prominent place on the Admissions tour that allows tour guides to tell prospective students and their families about the success of the team.
This academic year, the Debate Team continued racking up achievements, making it to the Grand Finals of the Colgate University Debate Open, beating teams from Harvard and Cornell, and winning the annual Huber Debate at the University of Vermont, which featured 36 teams.
HWS Debate Director and Chair of the Philosophy Department Eric Barnes is grateful for Cohen's support. "The students on the HWS Debate Team have accomplished amazing things since the team started in 2004," says Barnes. "It is so important to publicly acknowledge their hard-won victories against some of the best debaters in the world. The generous donation by Keith Cohen is allowing us to celebrate our students' achievements and in a space – Stern Hall – that is very visible to our students and visitors."
Following his graduation in 1981, Cohen worked on Capitol Hill in Washington, D.C. before studying law at Temple University. He has practiced law in the Philadelphia area since 1985 and started his own law firm in 2005. Law Offices of Keith J. Cohen Esquire, P.C. handles cases in auto accidents, premise liability, workers' compensation, discrimination, real estate matters and contract disputes.
A political science major, Cohen also took courses in economics, art history and psychology. He was a fraternity brother in Phi Sigma Kappa, ran on the cross-country team, played intramural sports and worked as a hall monitor in Hirshson Hall.
"The liberal arts education provides a wonderful way to broaden your understanding of issues," he says. "Hobart and William Smith Colleges are a bright light in liberal arts education. I really take great pride in being an alum."