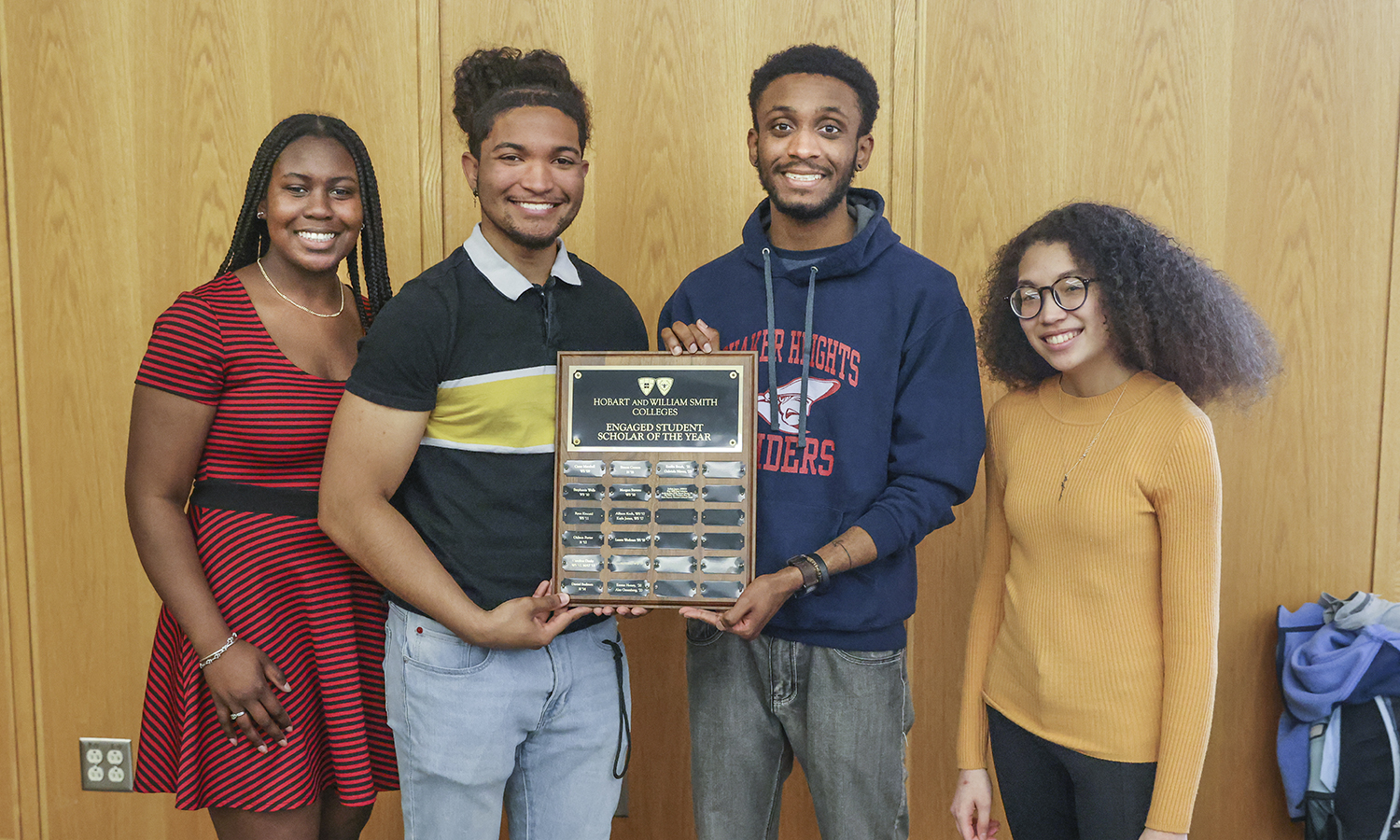 HWS News
20 May 2022 • Service Civic Engagement Celebrated
The outstanding work of students, faculty and community members was showcased at this year's Community Engagement Scholarship Forum.
During the 14th annual Community Engaged Scholarship Forum, civically engaged students, faculty and community members were celebrated for their service and honored with an array of awards.
Center for Community Engagement and Service Learning (CCESL) Director Katie Flowers, who hosted the event, kicked off the annual celebration with a nod to the turbulence of the past two years due to the pandemic.
"Although it's impossible to fully comprehend all the changes and loss we've experienced individually and collectively since 2020, it's important to highlight how we've come together, and how lessons gleaned from challenging conversations have helped forge a collective movement that will continue to propel us forward as we continue to imagine what 'we not me' looks like when put into action," said Flowers in the Vandervort Room of the Scandling Campus Center.
Community Engaged Scholarship Forum

Flowers presented the Community Partner of the Year award to James Schuler, assistant director of Youth Advocate Programs, Inc. in Geneva. Over the past few years, Schuler has been a resource to HWS students and faculty speaking in classrooms and working with students on projects. "James Schuler has positively contributed to the development and learning of many HWS students through direct mentorship, classroom visits and public speaking," she said.
Provost and Dean of Faculty Sarah Kirk announced Vice President for Diversity, Equity and Inclusion as the Civically Engaged Faculty Member of the Year. "Professor Hussain has built a scholarly focus that examines the experiences emerging from his work around issues of race and racism in our area communities and schools," said Kirk. "Professor Hussain has been engaged in meaningful service and engaged scholarship that has a significant impact through his roles as teacher, scholar, dean and administrator and has brought together his scholarly interests and strengths in teaching and community leadership to serve our students and give them opportunities that go far beyond traditional academic classes."
Assistant Director of CCESL Peter Budmen '15, MAT'16 presented Delilah Jesson '22 with the Community Engaged Student of the Year Award in recognition of her integral help in launching The First 1,000 Days initiative at the Geneva Community Center, a program that helps community members through the first three years of parenting. "Through direct outreach to parents, Delilah Jesson has worked tirelessly to create a community among families while simultaneously providing resources such as free clothes, food and recreational space," said Budmen.
In concluding the event, Budmen presented Anthony Bray '23, Samari Brown '24, Sal Fabio '22 and Christina Roc '24 with the Civically Engaged Students of the Year Award for writing, producing and performing in From Beyond: Geneva's Unheard Voices. The theatrical walking tour depicts the lives of un- and under-represented African American people who lived in Geneva. "Through archival research, deep discussion and incredible artistry, these four students went above and beyond," Budmen said. "What came from a summer research fellowship, turned into a semester-long project that engaged our campus and extended our community."
Student posters are available here. Aidan Donahue '22, as part of Visiting Assistant Professor of Education Karis Jones' Educ 220 course, created an audio file of the event.