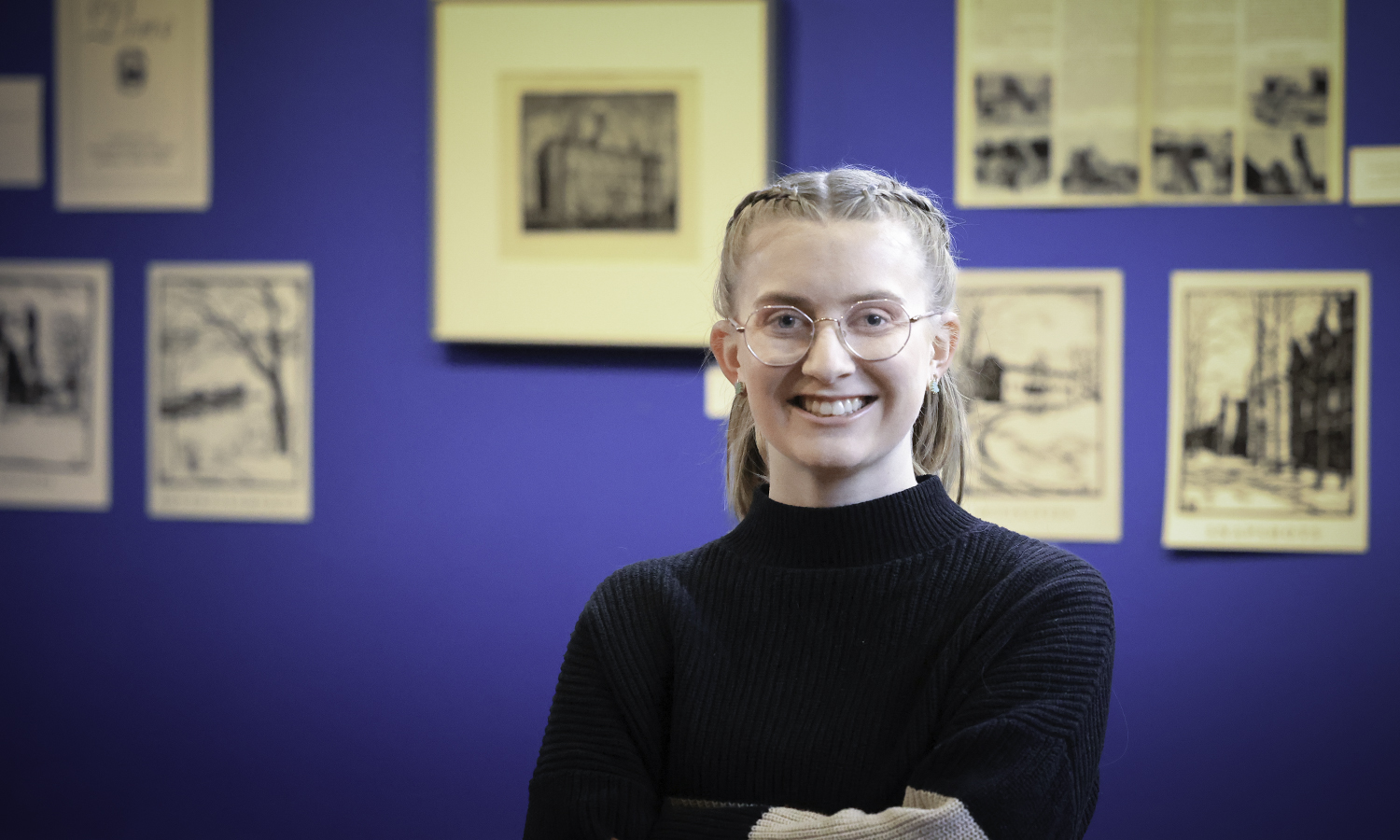 HWS News
Exhibit curated by Nafz '24 features HWS' first art professor
Every department starts somewhere and with the HWS Art and Architecture Department, it began with Norman Kent.
Kent, who was appointed the first Studio Art faculty member in 1933 and served until 1943, is the subject of an exhibit curated by Lizzy Nafz '24 on display at the Solarium Gallery at Houghton House until Saturday, Dec. 10.
"Norman Kent: Carving a Path" focuses on the history of Kent's time in Geneva through a selection of woodcut prints and watercolor paintings. The exhibit was created in partnership with Historic Geneva and the HWS Archives.
"I think it's really amazing the program started with just one person," says Nafz. "When he started, not many people were interested in Studio Art, but he brought in different lecturers and developed many classes and formulated an interest."
Nafz, a History major and Critical Museum Studies minor, began the project as an intern at Historic Geneva during the summer of 2022. She blogged about her experience working at Historic Geneva for her minor capstone, focusing on Kent's printmaking and the subjects of the prints. Learning that Kent was the first Studio Art professor at the Colleges sparked an interest to learn more.
"It was also interesting when I realized that his prints are hanging at the Colleges. He is still making an impact here," says Nafz. "The way he captured the Colleges, and the way he captured the history and beauty of Geneva, still resonates with people today, and that's why I wanted to do an exhibit on him."
Prior to his time at HWS, Kent traveled around Italy as a freelance artist, creating works wherever he went.
Nafz, who wants to go into the museum field after college, hopes the exhibit can provide insight into the roots of the department.
"I hope the exhibit allows people to see the Art and Architecture Department in a new light," she says.