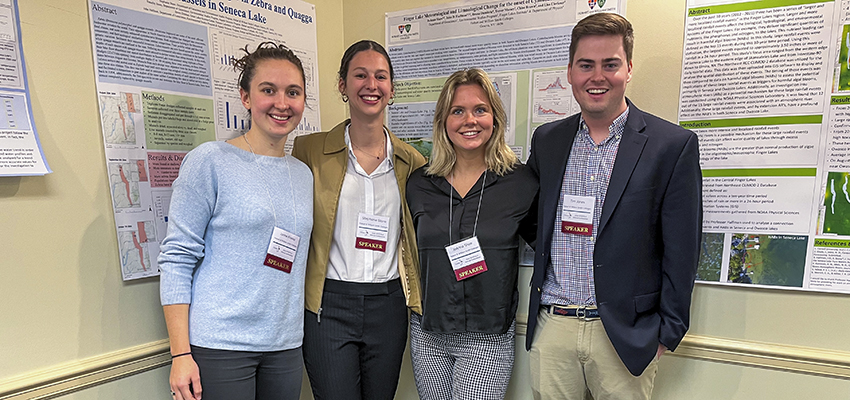 HWS News
6 May 2022 • Research Aquatic Science Students Present Their Research
Seniors showcase their lake research at New York State Federation of Lake Associations Conference in April.
Under the guidance of Professor of Environmental Studies John Halfman, four HWS seniors presented their research at the New York State Federation of Lake Associations conference in April at Lake George, N.Y. The students presented on independent study or capstone research projects they conducted in Halfman's lab. Their topics focus on long-term limnological (lake) datasets and ranged from surface water temperatures to invasive species distributions.
Tim Jones '22, an environmental studies major, and biology and aquatic sciences double minor, presented "Spatial and Temporal Change of Large Rainfall Events in the Central Finger Lakes Region." Jones was able to investigate the 15 largest rainfall events in the past 10 years and correlated them to nonpoint source nutrient loadings issues in the Finger Lakes and Atmospheric Rivers. These isolated and above normal events are the result of global warming and will be most frequent in the coming future.
Geoscience and environmental studies double major Janne Kneike '22 compiled temperature records from the Finger Lakes and showed that the surface water has warmed over the past two decades. The regional similarity between a number of lakes suggests that the warming is not due to local impacts like thermal wastes from the Greenidge and Milliken power plants on the shores of Seneca and Cayuga Lakes.
Stephanie Stone '22, another geoscience and environmental studies double major, investigated the "Spatial and Temporal Changes in Zebra and Quagga Mussels in Seneca Lake." She collected surface sediments from three transects in Seneca Lake and analyzed them for zebra and quagga mussel densities. She found that zebra mussels have been effectively replaced by quagga mussels in the lake, and the total numbers of mussels has declined since their invasion in the early 1990's. The reason for the decline is unclear at this time but may be related to the recent rise in cyanobacteria (blue green algae), disease or microplastics. It is not a lack of food, as algal concentrations have increased over the multi-decadal time frame.
Finally, JoAnna Shaw '22, a geoscience and environmental studies double major, and aquatic sciences minor, presented on the "Meteorological and Limnological Precursors to Cyanobacteria (HABs) Blooms in Seneca & Owasco Lakes." She statistically investigated the occurrence of HABs events to parameters like wind speed, air temperature, rainfall, light intensity and water temperature. Her analysis revealed that HABs events happen on sunny, calm and warm-water days but not every sunny, calm and warm day. HABs were also detected on overcast, windy and cooler days. In fact, it took a combination of events to focus nutrients along a shoreline location for a bloom. We suspect that the accumulation and bacterial degradation of nearshore weeds (macrophytes) and other organic matter along the shoreline is a prime source of nutrients to support the HABs events in the nutrient poor Finger Lakes. Her effort cumulated in a co-authored manuscript to be submitted to a scientific, peer-reviewed, journal shortly.
A large number of Geoscience and Aquatic Science students conduct research as independent study, during the summer and/or through Honors projects. Most of these experiences result in student co-authored presentation and publication.
The photo above features Janne Knieke '22, Stephanie Stone '22, JoAnna Shaw '22 and Timothy Jones '22 (L to R).