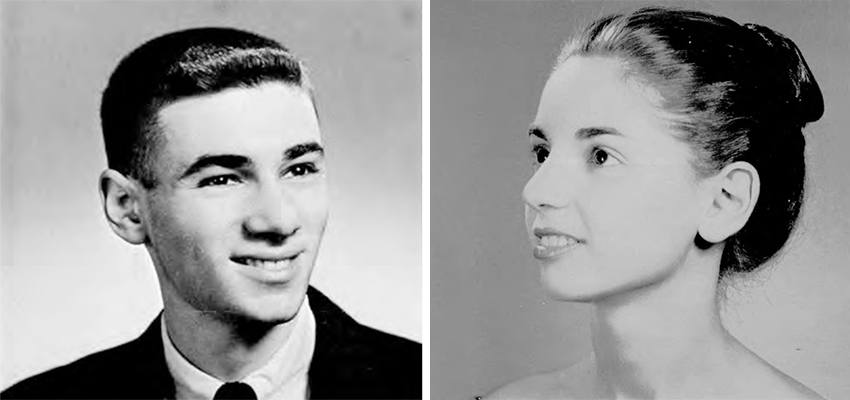 HWS News
1 April 2022 • Alums Supporting Tomorrow's Doctors
A new endowed scholarship supports pre-med students and honors family bonds.
Hobart and William Smith "is where it all began" for Susan Steinberg Lieberman '60, P'86, P'88, P'98 and her husband, the late Dr. Robert C. Lieberman '58, P'86, P'88, P'98.
Susan and Robert met at a social event soon after arriving on campus. They hit it off, started dating and one week after Susan graduated, the couple married.
During Robert's 50th reunion in 2008, reminiscing about the special place in their lives that HWS occupied, the Liebermans found themselves moved to support the Colleges in a lasting and meaningful way — "to give back to Hobart and William Smith for all it has given to us," Susan says.
That conversation spurred a plan that has now become a reality: the establishment of the Lieberman Family Endowed Scholarship Fund, which will support HWS students pursuing a pre-medical course of study.
The endowed fund commemorates the impact HWS had on Robert, who was a pre-med student and held a long career as a colorectal surgeon. Susan recalls the mentorship of biology professors T.T. Odell and Dick Ryan, who "were so influential in Robert's decision to pursue being a doctor."
In fact, Robert learned of his acceptance to New York Medical College when Odell, then chair of the Biology Department, walked to Robert's dormitory during a snowstorm to deliver the news in person.
The gift is also a way to support an institution that has come to occupy a key place in the Lieberman family: three of Robert and Susan's four children — Aaron Lieberman '86, Miriam Doremus '88 and Naomi Bush '98 — are HWS graduates, as are Aaron's wife, Jackie Gilbert-Lieberman '89 and Miriam's husband, John Doremus '88.
"I can't tell you how much the school means to us," Susan says. "My husband and I loved Hobart and William Smith and always will."
Assistant Vice President for Development Kelly Young P'16 says the Liebermans' story "epitomizes the lifelong impact that HWS has on our graduates, both in their education and in the relationships they forge here. We are grateful and proud that they have chosen to give back and make those experiences possible for future generations."
While Robert attended medical school, Susan continued her studies at HWS, earning a B.A. in psychology. After medical school, Robert began an internship at Albany Medical Center, and Susan worked as a teacher until Aaron was born. For 40 years, they remained in Albany, where Robert established a private practice and eventually became president of the medical group that oversaw the practice. After Robert's retirement, the couple lived on Long Island for several years. Susan returned to Albany after Robert passed away in 2014.
To this day, she wears a touching reminder of both her husband and the Colleges; Robert had his Hobart ring fashioned into a bracelet, a gift for her 25th birthday. "It's so beautiful," Susan says. "I never take it off."