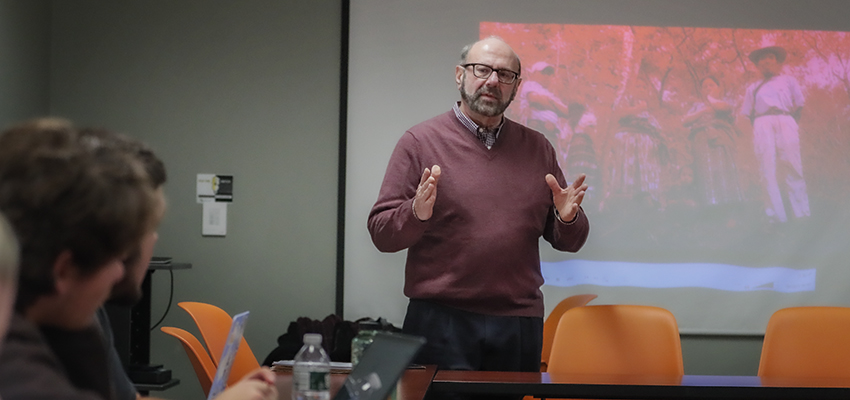 HWS News
22 September 2022 • Faculty • Service Dobkowski Gives Talk at Jewish Book Festival By Kylie Rowland '24
Professor of Religious Studies Michael Dobkowski spoke on mortality and the Holocaust in conversation with author Dara Horn at the Rochester's Jewish Book Festival.
As part of the annual Lane Dworkin Jewish Book Festival, Professor of Religious Studies Michael Dobkowski gave a talk on Thursday, Sept. 22 at 9 a.m. at the Hart Theater in Rochester. Dobkowski was in conversation with acclaimed novelist Dara Horn about her provocative recent essay collection, People Love Dead Jews: Reports from a Haunted Present.
As a scholar of Holocaust Studies, religion and violence, and antisemitism, Dobkowski put his expertise in conversation with the themes of death, mortality and the Jewish experience prevalent in Horn's book.
The book festival, put together by the Louis S. Wolk Jewish Community Center, showcases Jewish literature and publications and gives Jewish authors a platform to promote community consciousness and Jewish identity. In 2017, Dobkowski was featured at the festival for his contributions to the publication Facing Death: Confronting Mortality in the Holocaust and Ourselves, which examines how the Holocaust reveals new perspectives on mortality.
Holding a doctorate in history from New York University, Dobkowski has been a member of the faculty since 1976. He received the Faculty Scholarship Prize in 2008 for his scholarly work and community contributions, and was recently named the John Milton Potter Chair in the Humanities.
In addition to writing and editing numerous publications, Dobkowski founded and frequently participates in the Weinstein Holocaust Symposium at Wroxton College in England. At HWS, he was a key contributor to the establishment of The March: Bearing Witness to Hope, a biannual faculty-led trip to Germany and Poland. The program offers students a unique experience to see firsthand World War II historical sites in order to more fully understand the devastation of the Nazi regime and the Holocaust.