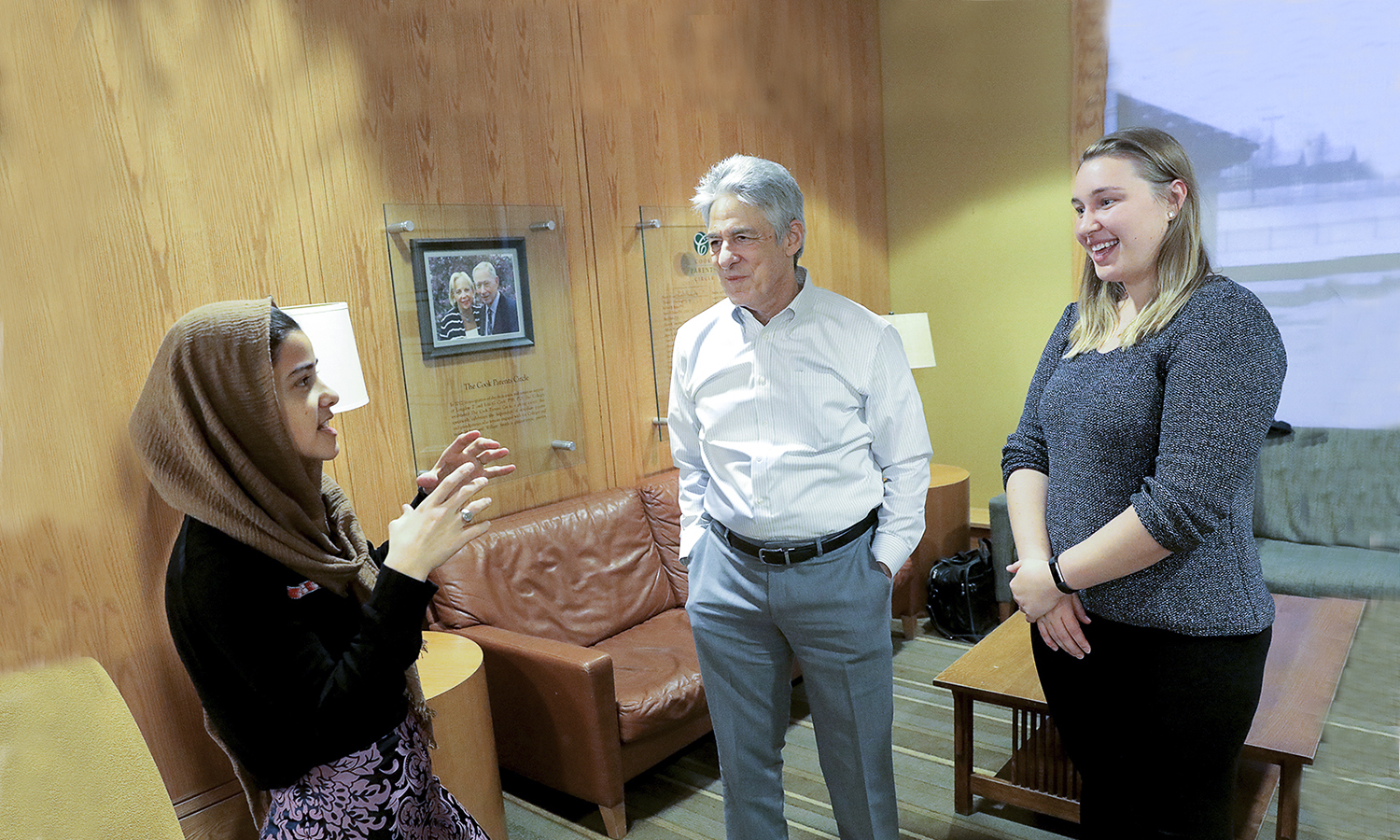 HWS News
22 September 2022 • Alums • Athletics Cohen '67 Donates to Colleges, Creates Endowed Fund By Colin Spencer '19
Psychology Research, Internships, Leadership and Athletics will benefit from gift from Dr. Stephen L. Cohen '67.
The time Steve Cohen spent at Hobart College was essential in forming his professional and personal life, laying the groundwork for him to succeed as an expert consultant in the talent development field as well as meeting lifelong friends. In tribute to the lasting impact the Colleges have had on his life and career, Cohen has donated $200,000 to establish a new endowed fund, along with support for the Department of Psychological Science, HWS Athletics, the Centennial Center and the Annual Fund.
"I believe HWS launched my entire life. Without it, I would not be where I am today, both personally and professionally," says Cohen. "I'm giving back so that other students can hopefully have a similarly positive experience I had."
As a student at Hobart, Cohen majored in psychology, was a member of the Chimera and Druid honor societies, served as treasurer of Kappa Sigma, was president of the Interfraternity Council, participated in student government and played on the Hobart basketball team.
Cohen's gift is divided into areas of interest he had as a student. Additionally, as an expert consultant in the talent development field, he supports the work of the Centennial Center, which helps students become successful leaders.
To the Department of Psychological Science, a $105,000 gift will establish the Dr. Stephen L. Cohen '67 Endowed Psychology Research Fund to provide support for one or more students each year to work on a research project with the department.
With the other half of his gift, Cohen has created:
Continued support for the Dr. Stephen L. Cohen '67 Prize in Psychology that is awarded to a graduating psychology major who has shown special aptitude and continued interest in graduate education;
The Annual Fund in support of Career Services over the next five years;
The Dr. Stephen L. Cohen '67 Case Competition, offered through the Centennial Center, for the next five years; and
Aid for the Hobart basketball team.
Cohen is the founder and principal of the Strategic Leadership Collaborative, which provides business coaching, strategic planning and board advisory services for entrepreneurs in the talent development industry interested in building, growing and eventually selling their businesses. Working from his base in Minneapolis, he helps clients embed and optimize successfully sustainable growth practices.
He is the author of two books on talent development consulting and has founded or co-founded eight talent development consulting firms working to advance the human resources strategies of more than 150 Fortune 500 corporations and talent development businesses, exclusively focusing on the latter over the past decade.
Cohen, who served on the Board of Trustees for 13 years and as member and of the Alumni Council for another 10, including as President, says he keeps contributing to the Colleges because he is extremely proud of the quality of students it continues to graduate. "I'm so impressed with the maturity, intelligence and worldliness of our students," he says.
With this funding, Cohen says he hopes it can help make attending HWS a little more affordable and help provide the best experience possible.
"For me, that's the whole point of going to college: to enrich your life," Cohen says.
Cohen also holds a master's and doctorate in industrial-organizational psychology from the University of Tennessee.
In the photo above, Dr. Stephen Cohen '67 meets with Zahra Arabzada '19 and Taylor Gorycki '18, recipients of the Cohen Fellowship.