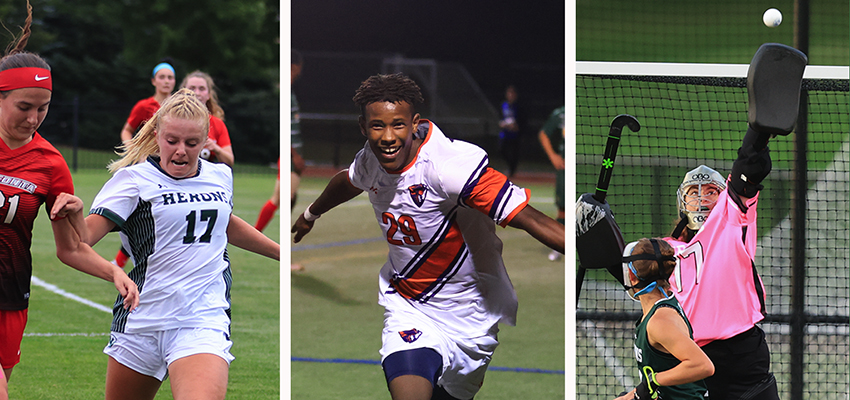 HWS News
6 September 2021 • Athletics Opening Wins
At home on Wednesday, the second-ranked William Smith College soccer team rolled to a 10-0 win over Oneonta, Hobart soccer dominated Keuka in a 1-0 contest, and William Smith field hockey topped St. John Fisher 5-4 in double overtime.
On Cozzens Field, William Smith College senior forward Julia Keogh had a career day, finishing the soccer game with three goals and two assists. The 10 goals by William Smith (1-0-0) were the most in a game since the Herons scored 10 goals against Skidmore on Oct. 2, 1999. William Smith soccer will be back in action on Saturday, Sept. 4 when they make the trip to Grantham, Pennsylvania to take on No. 1 Messiah. It will be a rematch of the 2019 National Championship Game. The game is scheduled to begin at noon. Read more here.
On Boswell Field, Hobart College first-year Frederick Madsen's goal in the 65th minute lifted the Statesmen soccer team past Keuka in the non-conference contest. Hobart (1-0-0) dominated the game finishing with a 16-0 edge in shots and a 7-1 advantage in corner kicks. The Statesmen will be back in action this weekend, Sept. 4-5, when it heads to New Hampshire for the 2021 Keene State/Home Depot Soccer Classic. Hobart will open the tournament on Saturday, Sept. 4, against Brandeis. The game is scheduled to begin at 2 p.m. Read more here.
On McCooey Field, the William Smith College field hockey team's win gave the Herons' Sophie Riskie '07 a win in her head coaching debut. Senior Lea Mateo Medina scored the game-winner in the 72nd minute off a penalty corner. Senior Elizabeth Jacobia inserted the corner to Medina at the top of the circle. Her strike deflected off a defender's stick and took a long, looping arc to the cage. The Herons will make their first road trip of the year, when they visit No. 15 Ursinus on Saturday, Sept. 4 at noon. Read more here.