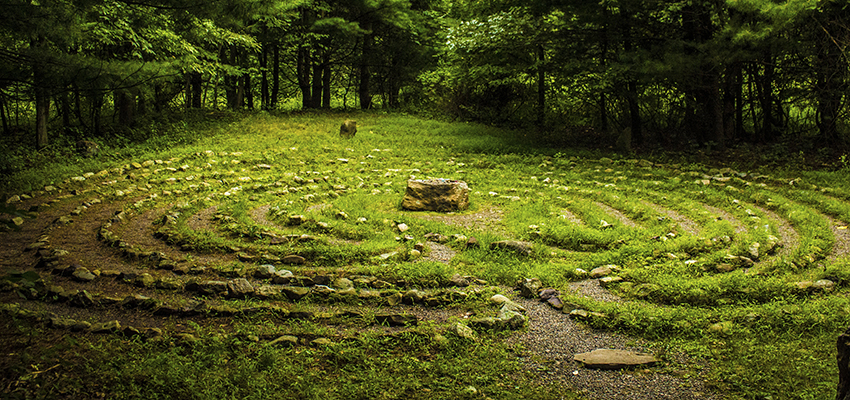 HWS News
22 October 2021 • STEM Nature's Remedy
A labyrinth will offer the HWS community a new site for spiritual restoration.
As envisioned by the Hobart and William Smith Colleges' Office of Spiritual Engagement, a labyrinth on campus will bring visitors into closer contact with nature and with their own spirituality, whatever form it takes.
Professor of Geoscience Nan Crystal Arens, who is also Junior Warden of St. John's Chapel, says the project developed in conversation with students who are affiliated with the campus chapel, though the labyrinth is not tied to a particular faith.
"Although walking meditation, and the labyrinth in particular, is part of many traditions," she explains, "it is also a spiritual or meditative practice outside of any religious tradition."
Unlike a maze, a labyrinth is composed of a single, winding path, "symbolic of winding paths of our lives," as the project's organizers note. Located on the grounds of the Colleges' Richard S. Perkin Observatory, the planned labyrinth is 36 feet in diameter with boundaries made of local fieldstone and paths composed of crushed stone, complementing the site's natural setting. The design is based on medieval Christian labyrinths in France, featuring a single entry/exit point and a space in the center suitable for individual seating and as a focal point. The surrounding landscape will be planted with pollinator-friendly species.
As well as a peaceful location for individual meditative practice, the labyrinth is intended to be a site for memorial rituals reflecting a diversity of spiritual practices, public and private.
The project, which was planned in consultation with numerous HWS departments, offices and organizations, has been approved for construction. Fundraising toward the $6,000 goal is underway.
To learn more or to make a gift in support of the labyrinth, click here.
After the site is prepared, students plan to complete most of the construction by hand. Through the HWS Days of Service and various campus clubs, student volunteers would also be responsible for maintaining the labyrinth.