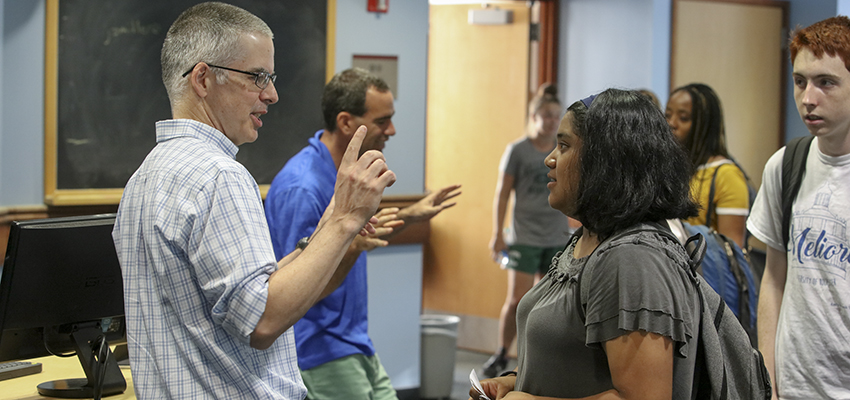 HWS News
22 October 2021 • STEM Medical Careers Start Here
Why HWS is an ideal place to prepare for a career in the health professions.
At HWS, students and alums have the support of individualized advising throughout the admission process to professional schools in health services. Whether students are interested in pursuing an M.D./Ph.D., joining Doctors Without Borders or serving local communities as a physician or veterinarian, Scott MacPhail, our Associate Director of Health Professions Counseling and Fellowship Advising, is a reliable resource for planning and support.
Here, MacPhail answers questions about what students can expect from the HWS Health Professions Program.
How do I know if the Health Professions Program is right for me?
As the health professions advisor at HWS I work with students planning on careers in medicine, dentistry, veterinary medicine, physical therapy, occupational therapy, nursing and many other pathways within the healthcare world. Some of the students I work with have very definite career plans; others are exploring a range of options within health care and the sciences. We also have a huge and supportive network of alums actively engaged in educating and supporting students with interest in health care careers.
How does the advising process work?
Typically, a student's relationship with me begins with lots of academic planning, either during the summer before the first semester or during Orientation. Most professional schools in health care fields require specific courses but not specific majors, so I work with students one-on-one, semester-by-semester, to arrive at the plan that makes the most sense for that student's goals. That includes cocurricular goals such as study abroad, varsity athletics, multiple majors (both in and outside of the sciences) and leadership and service opportunities. The Health Professions Program at HWS is not a lockstep sequence of courses, but instead a close, individualized advising program that finds the best way to help students get to where they want to go.
How will the program help prepare me to continue my education after HWS — and for my career?
In addition to academic advising, I work with students to make sure they are making the most of their non-academic time. This could be by connecting students with great on-campus groups like Emergency Medical Services (EMS) or the many health-related service clubs. Research experience, both on campus and off campus, plus clinical work can also be great ways to confirm or explore career interests. HWS has a relationship with Finger Lakes Health, the health care organization that owns the hospital here in Geneva and other nearby clinical facilities. We also have good connections with local dentists and veterinarians. We typically have 20-30 students participating in clinical internships during the semester. I also work one-on-one with students to help them make the best of their time during breaks, whether that means pursuing research at a major health center or one closer to a student's home. My role intensifies as students get closer to completing their time at HWS. At that point I help students with decisions and processes: deciding when and where to apply to professional school, assembling a study plan for standardized exams like the MCAT or DAT, assistance with application materials themselves, interview preparation, and finally the happy process of deciding between admissions offers.
The photo above features Scott MacPhail, Associate Director of Health Professions Counseling and Fellowship Advising, and Justin Miller, Professor of Chemistry and Health Professions Faculty Advisor, talking with students in 2018.