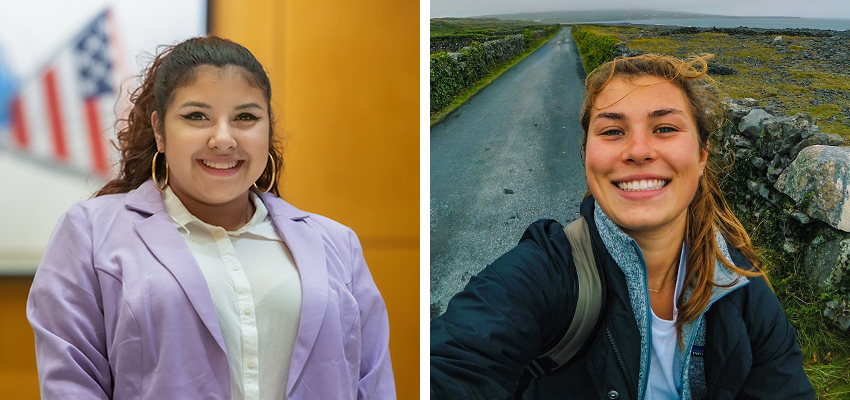 HWS News
6 June 2021 • Faculty Celebrating Community Engagement in 2021
As the academic year comes to a close, Hobart and William Smith recognize students, faculty and partners in Geneva for their investment in the local community.
This spring's virtual presentation of community engagement awards recognize the service work that "persisted in creative ways" throughout 2021 "thanks to the innovation, commitment and civic-minded focus" of the HWS community and partners, says Katie Flowers, director of the HWS Center for Civic Engagement and Service Learning.
At the April event, Flowers, joined by President Joyce P. Jacobsen and Provost and Dean of the Faculty Mary L. Coffey, announced the Colleges' Civically Engaged Students of the Year, the Civically Engaged Faculty Members of the Year and the Community Partner of the Year.
Gabriela Nieves '23 and Emilia Brush '21 (pictured above) were honored for excellence in community-based research and service-learning. Nieves was committed to mentoring local students as the HWS Tutor Corps program went virtual and "was keenly focused on ensuring that this new program was equitable to the Spanish-only speaking families in our community," Flowers said.
Throughout Brush's internship with Education for the Children, which supports the School of Hope in Guatemala, she "developed, created and maintained a recycling program that is providing financial support to the foundation," Flowers said. "She also contributed to planning meetings and grant research."
Associate Professor of Psychological Science Brien Ashdown, Associate Professor of Spanish and Hispanic Studies May Farnsworth and Instructor of History Virgil Slade were recognized for their "community engaged teaching, putting words into action and positively impacting the campus and extended community," Coffey said.
The Community Partner of the Year award is presented annually to the person or agency who has consistently contributed to the civic development and leadership of Hobart and William Smith students. The 2021 award honors the St. Peter's Neighbor's Night Program.
"Since 1987, Neighbor's Night has been a positive and engaging place for our community's children to gather and sing, play games and enjoy dinner," Jacobsen said. "We are all stronger for their investment in our community, in Geneva's children and in Hobart and William Smith student civic development."
Community engagement is built into the HWS curriculum and educational experience, and in recent years, HWS has been ranked among the nation's leading higher education institutions for service. Students volunteer more than 80,000 hours annually in local, national and international communities, and generate more than $100,000 in fundraising efforts for non-profit organizations. A decade ago, the Colleges spearheaded a collective impact initiative, now known as Geneva 2030, to harness the resources of the entire community in support of education for Geneva's children. The program has become an important component in HWS' overall partnership with the City. In 2014, Hobart and William Smith were recognized as one of only four institutions to be named to the President's Higher Education Community Service Honor Roll.