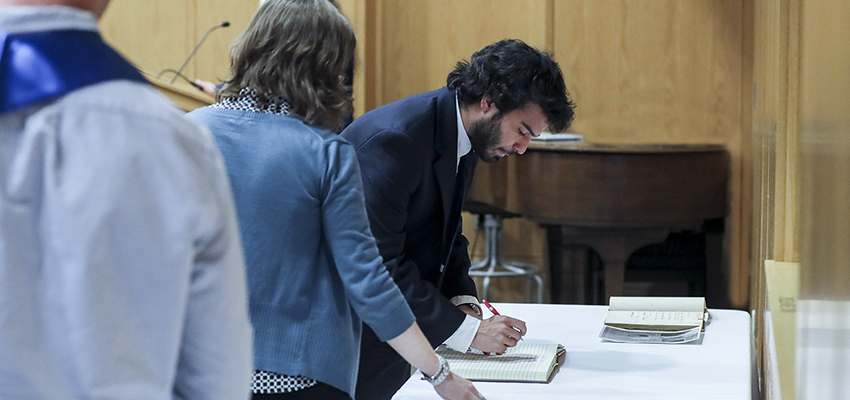 HWS News
23 July 2021 • Alums New Endowment Celebrates 150 Years of Phi Beta Kappa at HWS
A $150,000 gift from Dr. Arnold Cohen '71, P'05 commemorates the Zeta Chapter of New York's sesquicentennial and celebrates the liberal arts heritage shared between HWS and Phi Beta Kappa.
For academically accomplished students, there is no higher recognition than admission to Phi Beta Kappa, the oldest academic honor society in the United States. Of nearly 300 PBK chapters nationwide, Zeta of New York was the 23rd founded, making it older than many American colleges and universities.
Coinciding with the HWS chapter's 150th anniversary, the Dr. Arnold N. Cohen '71 and Dr. Colleen R. Carey Endowed Phi Beta Kappa Fund has been established to support, in perpetuity, membership for all new HWS inductees and the annual banquet in their honor.
Dr. Cohen, who was elected to PBK as a student at HWS, went on to a career as a gastroenterologist and now teaches medicine at Washington State University. With the endowment, he says he wanted to recognize the breadth and intensity of study undertaken by Zeta Chapter members, to celebrate "their hard work and their ability and their application of their education."
"To perform at that level requires a consistent, dedicated effort every day," Dr. Cohen says. "It's not just being academically intelligent — it means being emotionally intelligent, it means being disciplined."
"Dr. Cohen's gift is a generous tribute to the Zeta Chapter's history and a supreme vote of confidence in the talented and curious students who thrive in our curriculum," says HWS President Joyce P. Jacobsen.
Founded in 1871, the Colleges' PBK chapter has been a consistent presence honoring and supporting academic excellence in the liberal arts. Every year, Zeta inducts students into lifetime membership in PBK, not only for demonstrating exceptionally strong academic records but for pursuing courses of study that indicate intellectual breadth, with an attitude reflecting a love of learning.
"In a time where the liberal arts are maybe not appreciated in the way they should be, I think any institution that recognizes the value of a liberal arts education is a good thing and should be reinforced," Dr. Cohen says.
To date, more than 1,000 HWS alums have been inducted to the Zeta Chapter of New York. Roughly 30 graduating seniors are elected each year, along with a handful of the most accomplished juniors.
PBK book prizes — previously endowed by Dr. Cohen and former Chair of the Board of Trustees Maureen Collins Zupan '72, P'09, L.H.D. '16 — are awarded to the two individuals with the highest grade point averages in the HWS sophomore classes.