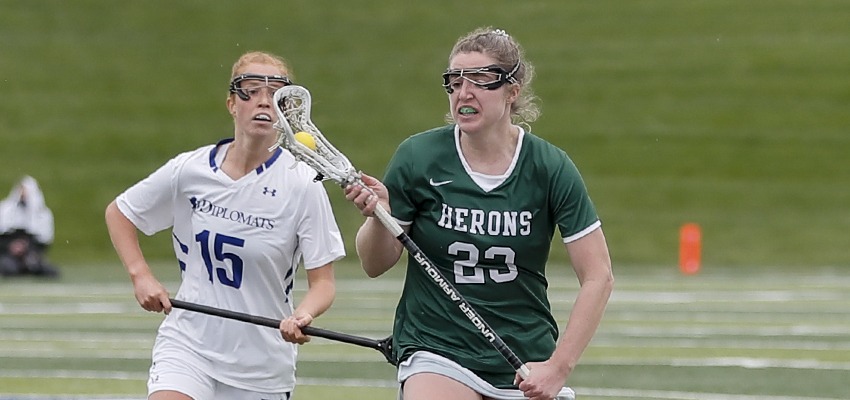 HWS News
14 July 2021 • Alums • Athletics Montgomery '21 Voted Liberty League Scholar of the Year
William Smith College lacrosse defender Mekayla Montgomery was voted the 2020-21 Liberty League Female Scholar-Athlete of the Year Commissioner Tracy King announced today. The recipient is selected by a vote of the conference's athletic directors. Montgomery graduated summa cum laude in May with a bachelor's degree in psychology and education.
The Liberty League Scholar-Athlete of the Year award is presented annually to one female and one male student-athlete who demonstrates excellence in academics, athletics and service/leadership throughout their time as a student-athlete. Hobart tennis player Walker Anderson was named the Male Scholar Athlete of the Year. HWS also swept the awards in 2014.
Since the award was first presented in 2013, Herons have won five of the nine Female Scholar-Athlete awards. Montgomery '21 follows in the footsteps of Emily D'Addario '13, Olivia Zitoli '14, Madeline Buckley '15 and Caroline Conboy '17.
As the League's Female Scholar-Athlete of the Year, Montgomery will be the Liberty League's nominee for the NCAA Woman of the Year award.
Now in its 31st year, the NCAA Woman of the Year award honors graduating female college athletes who have exhausted their eligibility and distinguished themselves throughout their collegiate careers in academics, athletics, service and leadership.
"Mekayla's dedication in the classroom and on the field and her commitment to our community demonstrate her high character," Associate Vice President and Director of Athletics and Recreation Deb Steward said. "She is an outstanding representative of Heron student-athletes and I am thrilled she follows in the footsteps of other amazing Herons who were Woman of the Year nominees."
A four-year starter, Montgomery had a record breaking career for the Herons. The two-time Liberty League Defensive Player of the Year holds the Herons game (12), season (93) and career (233) records for draw controls and the career record for caused turnovers (120). Including her senior season, Montgomery is responsible for three of the top six seasons in the draw circle in program history. In addition, her name appears five times in the top-10 and 11 times in the top 25 on the single-game draw list. Montgomery's 176 ground balls are tied for sixth on the all-time list. In 59 games, she produced 14 points on nine goals and five assists. A team captain, Montgomery helped the Herons capture three straight Liberty League championships and make three trips to the NCAA tournament.
Montgomery was named to five different All-America teams in her career. This season, she was named a first team All-American by the IWLCA and USA Lacrosse Magazine. Montgomery was named an IWLCA third team All-American as a first-year and earned a spot on the second team as a sophomore. In the pandemic shortened 2020 season, she was tabbed a first team All-American by Inside Lacrosse. In addition, Montgomery was named a 2019-20 College All-American Strength & Conditioning Athlete of the Year.
A two-time CoSIDA Academic All-District selection, she is a three-time Liberty League All-Academic selection and was named to the IWLCA Academic Honor Roll in 2019. Montgomery is a Blackwell Scholar and a member of Psi Chi, the international psychology honor society.
In the community, Montgomery is a One Love Foundation advocate and escalation workshop leader, furthering the foundation's mission to teach young people about healthy and unhealthy relationships, empowering them to identify and avoid abuse and learn how to love better. She was a finalist for the 2020 Yeardley Reynolds Love Unsung Hero Award. Montgomery was also a member of William Smith's Student-Athlete Advisory Committee.
Montgomery also spent a month in Nidjje, Uganda, working for the non-profit, Hope for Children and Women of Violence.
In her hometown, Montgomery has spent time coaching eighth, ninth and 10th graders on the South Jersey Select Girls Lacrosse Club.