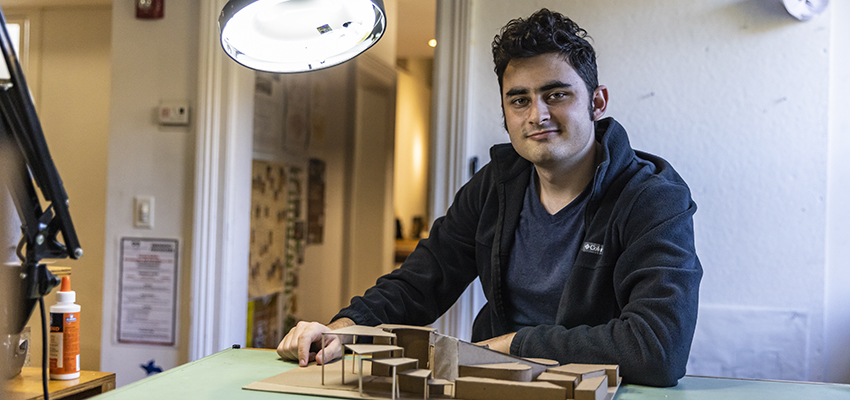 HWS News
3 December 2021 • Arts The Hopes and Dreams of Tomorrow's Architects
Ben Tesler '23 is the 2021 recipient of the "A" Fund scholarship.
The biennial "A" Fund Architecture Scholarship, presented to a rising junior architecture major who shows great promise and dedication to the field, was awarded this year to Ben Tesler '23.
The "A" Fund was established in 1992 by Professor of English Grant Holly; former History and Art History professor Michael Ann Holly '73; their daughter, actress Lauren Holly; and family, friends and colleagues in honor of Alexander Holly, son of Grant and Michael Ann, brother of Lauren. Alexander, known to his family as "A," tragically passed away as a young man before he was able to realize his ambition to become an architect. The "A" Fund, which gives aid to outstanding architecture or archeology majors entering their third year at the Colleges, is a lasting tribute to Alexander.
Tesler, who has been interested in the visual arts and design since high school, chose HWS for the academic "freedom while also having a very highly recommended architecture program." An architecture major and environmental studies double major, Tesler plans to pursue his master's in architecture and his interests in historical preservation and sustainable design.
"A" was a boy filled with dreams, hopes and plans. Although he was only 14 when he died, he had traveled extensively in Europe and Central America, lived in New York City and Los Angeles. These experiences produced in him a fascination for architecture and archaeology, fields that take as their subjects the physical evidence of the dreams, hopes and plans of humanity. Therefore, the "A" Fund was established in Alexander's memory to help fulfill the dreams, hopes and plans of generations of students studying these subjects for years to come.
Beyond supporting aspiring architects, the scholarship highlights "how good the architecture program is" at HWS, says Grant Holly. He notes that architecture straddles physical science, social science and aesthetics, and as such is "the quintessential liberal arts program. And the department faculty is excellent."