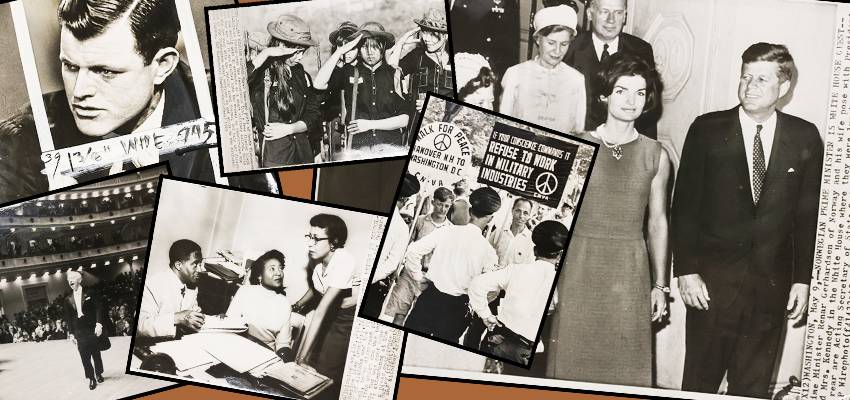 HWS News
9 December 2021 • Arts New Gift from Stephanopoulos Grows HWS Photo Collection
A donation from journalist George Stephanopoulos adds approximately 700 new items to the Collections of Hobart and William Smith Colleges.
A new gift of nearly 700 photos from George Stephanopoulos was added to the Collections of Hobart and William Smith Colleges this fall, capturing important historical moments and artistic movements of the 20th century. Building on Stephanopoulos' 2019 and 2020 donations of politically and historically significant photos, the most recent additions substantially expand the photographic works housed at HWS. To date, the appraised value of Stephanopoulos' donations totals nearly $5 million.
"The Colleges are tremendously grateful to George Stephanopoulos for his sustained generosity," says President Joyce P. Jacobsen. "The photographers, their work and the moments they captured are each significant in their own right. Grouped together in the Collections on campus, they have a cumulative impact that enhances our understanding of the historical, political and aesthetic forces that shape our present. It's an invaluable resource for the Colleges."
Anna Wager, visual arts curator at HWS, says the most recent additions to the Stephanopoulos Collection "deepen our existing photography collections in the areas of history, politics and art photography. This includes press prints from the Vietnam and Korean wars and images of anti-war protests and the Civil Rights movement. They feature major figures, like Angela Davis, the Kennedy family and the British Royal family, and examples of Italian post-war photography and European photojournalism from the collection of Charles-Henri Favrod. These are joined by American photography ranging from avant-garde works by photographers such as Nathan Lerner and Lloyd Ullberg, to documentary photography by Todd Webb and Leonard Freed, among many others."
The first portion of the Stephanopoulos Collection, donated in 2019, features work from a range of photographers depicting politics and institutions, television and media, the Civil Rights movement and the Great Depression, including the work of photojournalists who produced wire photographs for news outlets.
The second, donated in 2020, also spans major historical events of the 20th century including an important group of Vietnam War-era press prints with warzone images and photos of anti-War protests, as well as prime examples of European photojournalism. Beyond documentary photographs, the collection also includes American Modernism as exemplified by avant-garde works by Lerner and Ullberg.
These significant donations add to the Colleges' notable existing photographic holdings by artists like Robert Doisneau, Elliott Erwitt, Ralph Gibson and Arthur Rothstein.