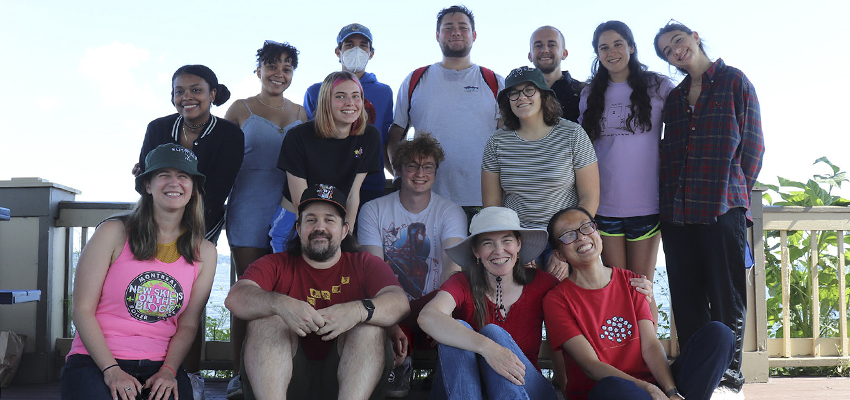 HWS News
10 December 2021 • Research • STEM Mathematics Research Students Win Awards
The Department of Mathematics' summer Research Experience for Undergraduates provided students with close faculty mentorship, research opportunities and insight about graduate study in the field. Students in the 2021 cohort went on to win national recognition from the Mathematical Association of America.

Hobart and William Smith's third annual Research Experience for Undergraduates (REU) program, grant funded by the Natural Science Foundation, brought 10 students from colleges and universities across the country to study and conduct research with professors in the HWS Department of Mathematics.
Over the course of nine weeks, students worked with HWS professors of mathematics and computer science in topics from algebraic combinatorics with Jennifer Biermann, mathematical virology with Jonathan Forde, neuron networks with Yan Hao, and graph theory with Erika King.

At the HWS REU, students who had not had the opportunity to directly work on research alongside faculty members at other universities and colleges became coauthors and partners in cutting-edge research.
In addition to honing students' mathematical and presentation skills, their experiences were enriched by a colloquium series of impressive guest speakers, including:
Associate Professor in the Department of Mathematics and Statistics Pamela Harris, Williams College presented, "Parking Functions: Choose your own adventure." Assistant Professor of Mathematics Gabriel Sosa Castillo, Colgate University presented "Monomial Orders Uniquely Determined by their induced offerings." Harris and Sosa are two of the founders of

Latinx and Hispanics in the Mathematical Sciences

(Lathisms).
On the subject of pandemic research, Professor of Mathematics Stanca Ciupe, Virginia Tech presented "Using mathematical tools to predict unified viral infection patterns."
Professor of Mathematics Ruth Haas, University of Hawaii at Manoa shared her insights on the "Reconfiguration of Graph Colorings." Haas is the former president of the Association for Women in Mathematics and co-founded the Center for Women in Mathematics at Smith College.
Associate Professor of Mathematics and Statistics Candice Price, Smith College delivered the closing banquet talk for the REU program. She presented "Fostering Change through Research." Price is one of the founders of

Mathematically Gifted and Black.
King says "All five guests are prolific in research," and enriched the REU student experience with their scholarship and expertise.
The program also included faculty-led trips to top ranked graduate schools in the region, including Cornell University and Rochester Institute of Technology, where they learned about graduate opportunities.
Following the REU program, students remained on campus to participate in the virtual Mathematical Association of America (MAA) MathFest conference. Of the nearly 100 undergraduate talks at the conference, both Biermann and Hao's research groups won MAA Outstanding Student Paper Session Presentation Awards for their papers "Agent based models of brain network communication" and "Algebraic and Combinatorial Properties of Down-Left Graphs."
Forde's research group won the Andersen Prize, recognizing an outstanding presentation and work in areas related to mathematical biology. The group's timely presentation was titled, "Age-Structured Models for COVID-19 Outbreaks and Public Health Interventions." The award is presented in memory of Janet Andersen by the Special Interest Group of the MAA for Mathematical and Computational Biology.
REU students are enrolled at University of Texas at Austin, University of Connecticut, Lafayette College, Carleton College, Vassar College, the University of Puerto Rico, Oberlin College, SUNY Geneseo, Bronx Community College and Regis University.
In the photo, students and faculty gather at their end of the program celebration on Seneca Lake. Photo by Malcolm W. King.