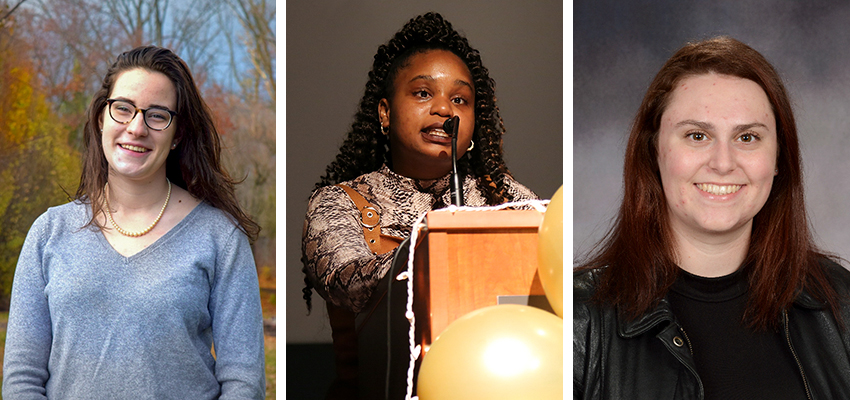 HWS News
3 September 2021 • Service HWS Grads Land AmeriCorps VISTA Positions
Based in Geneva, three recent graduates will join an impressive cohort of alums serving AmeriCorps. The alums will dedicate a year to supporting underserved people in Geneva in collaboration with local schools and community-building projects through the one-year federal anti-poverty service program.
Shannon Drew '21, Faith Hicks '21 and Emma Ibbotson '21 landed one-year AmeriCorps VISTA (Volunteer In Service to America) positions working in Geneva with youth programs and organizations to help combat poverty by increasing food access for families with low-incomes.
Later this month, Drew will begin combating food security in City of Geneva. The position, which was established in Geneva in 2018, targets youth outreach. A member of Phi Beta Kappa, Drew graduated summa cum laude in international relations. She served as a DJ and was music director for WHWS-FM and volunteered with the Boys and Girls Club of Geneva.
Hicks will work of the nonprofit BluePrint Geneva, which operates community gardens, offers educational, entrepreneurial and food justice programming. Hicks majored in English, was a member of Sankofa.
Working at BluePrint Geneva, a federally registered public charity led by Jackie Augustine '99, Hicks will help implement a program to expand community access to healthy, affordable food.
At Finger Lakes Community Schools, Ibbotson's work will focus on mentoring and community building. From social media management to event planning to leading guest classes, Ibbotson says she looks forward to the "creative thinking and innovation" of her work and the opportunity to impact students directly. She graduated magna cum laude in Dance and French and Francophone Studies.
"We know that now more than ever our young people need positive relationships and social support, and our capacity to provide that support is greatly enhanced through the service that Emma Ibbotson will provide," says Jay Roscup, Community Schools Director for Wayne County Community Schools Consortium and Finger Lakes Community Schools.
These three join their classmates who will serve a year with AmeriCorps:
Edie Falk '21 graduated summa cum laude in English and political science and joins City Year in Buffalo, N.Y.;
Allison Jordan '21 graduated magna cum laude in anthropology and sociology and joins Steps to Success at Notre Dame Mission Volunteers;
Lindsay Lesniak '21 graduated cum laude in anthropology and will work with Food Corps in Massachusetts;
Chloe Louthan-Green '21 graduated cum laude in biology, begins at Rochester Youth Year;
Sadie Mapstone '21 graduated summa cum laude in history and will start her career at City Year in Cleveland.
And Rylee Wernoch '21 earned a double major in biology and environmental studies and begins at AmeriCorps NCCC.
Since the VISTA program was established in 1965, more than 220,000 volunteers have joined the fight against poverty through the program. Through capacity building activities such as fundraising, grant writing, research and volunteer recruitment, AmeriCorps members in the VISTA program gain important experience addressing community challenges and develop leadership skills. This opportunity prepares members for a life of service in the public, private or nonprofit sector.
"HWS is proud to support post-graduate service, including AmeriCorps VISTA, and is supporting these new alumnae with free campus housing to help off-set expenses during their year of service in the Geneva community. For students that serve in AmeriCorps while a student, HWS is one of only 300 higher education institutions that matches the education award if applied towards tuition," notes Katie Flowers, Director of Center for Community Engagement and Service Learning (CCESL) who is an AmeriCorps VISTA alumnae.
A recent graduate from St. John Fisher College is also part of the local VISTA cohort as well. The Fisher graduate will be working with Finger Lakes Community College on college and career readiness for area youth. The Newman Fellows program is another way that HWS partners with Campus Compact. Flowers says her office is proud to support students who wish to consider post-graduate service opportunities including AmeriCorps and Peace Corps.