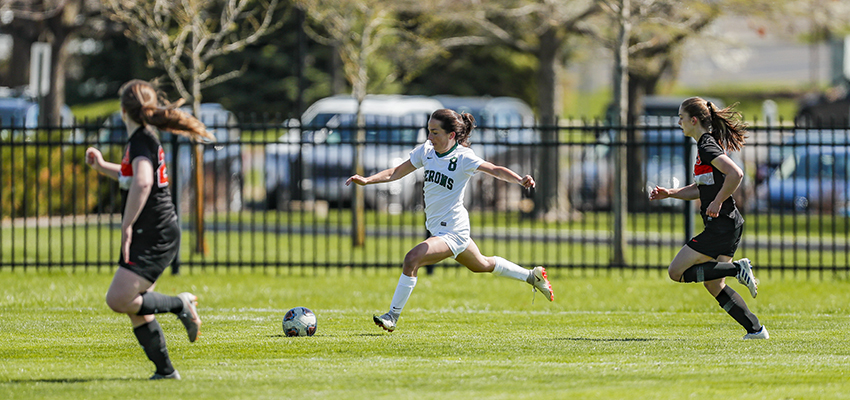 HWS News
3 September 2021 • Athletics Herons Land No. 2 in Preseason Poll
The William Smith College soccer team will begin the 2021 season ranked second in the United Soccer Coaches poll which was released this afternoon. It's the 13th consecutive season that the Herons have been ranked in the coach's association preseason poll.
Due to the pandemic, William Smith was limited to a pair of scrimmages during the 2020-21 academic year. The Herons went 21-2-1 in 2019, advancing to the national championship game. The Herons finished the campaign third in the nation in goals against average (0.297), fifth in shutout percentage (.750) and winning percentage (.896), 11th in save percentage (.883) and 23rd in total assists (46).
William Smith Head Coach Aliceann Wilber begins her 41st season in charge of the program with a Division III women's soccer record 593 wins. The six-time National Coach of the Year will be looking to lead the Herons to their third national championship (1988, 2013).
The Herons' 2021 slate features three teams that are ranked or receiving votes in the preseason poll. After kicking off the season on Sept. 1 against Oneonta, William Smith will head to Grantham, Pennsylvania, for a match up against preseason No. 1 Messiah on Sept. 4. The game will be a rematch of the 2019 National Championship game, which the Falcons won 1-0. Eight days later, the Herons will host Arcadia, which is receiving votes in the poll. It will be the first meeting between William Smith and the Knights. On Sept. 18, the Herons will take on No. 23 Geneseo on Cozzens Field.