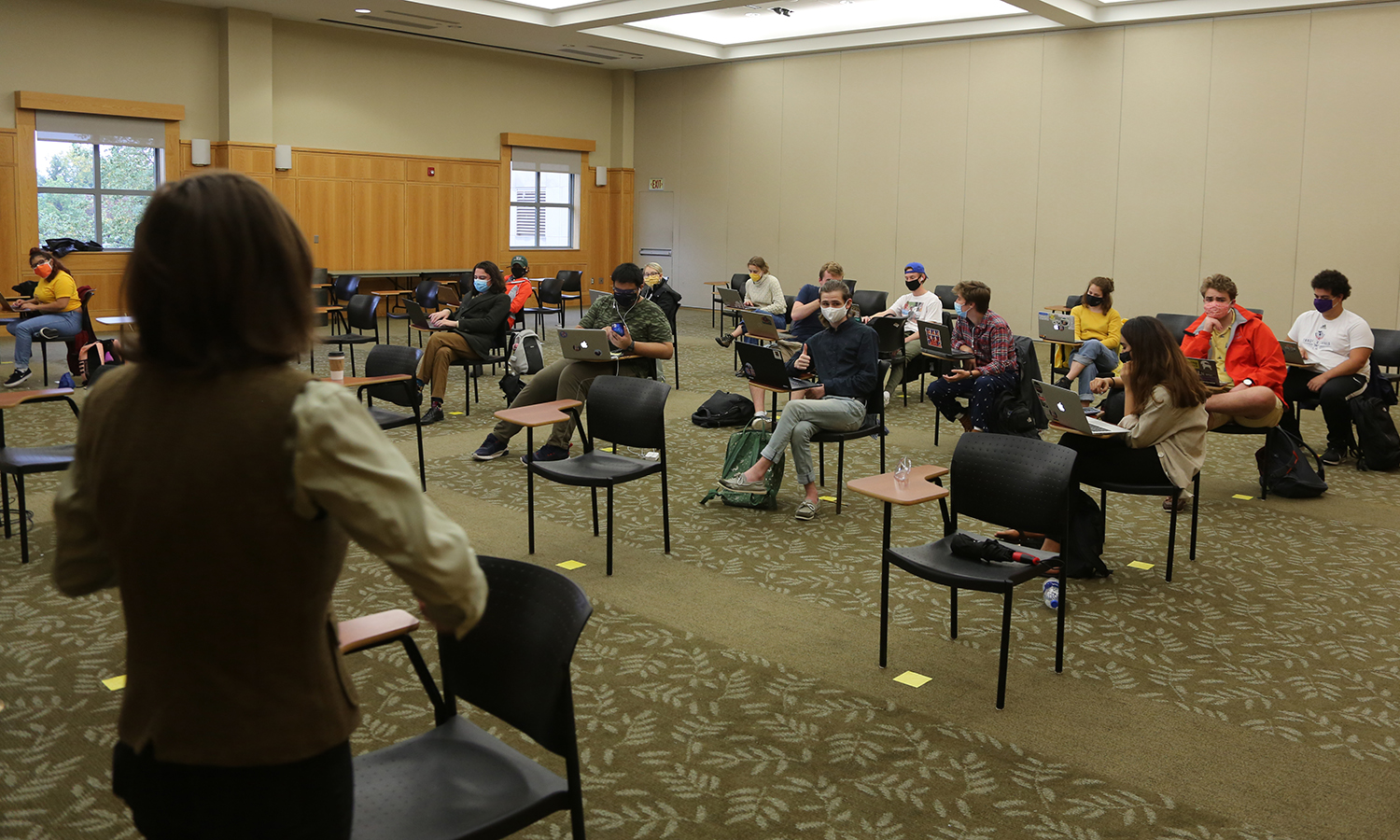 HWS News
14 October 2020

HWS Finishes Top 16 in the Country

This past weekend the HWS Debate Team made history when they hosted the first online United States University Debate Championships (USUDC). The tournament was originally scheduled to be in person before the rise of COVID-19 and is one of the most prestigious competitions in the country.
The team, led by Tournament Director and Team President Reed Herter '22, hosted more than 50 schools from around the continental U.S., and was adjudicated by people from all over the globe. HWS had five teams competing with four students and alums judging. Rounds covered a variety of topics ranging from the appreciation of art to the value of individualism, and U.S./China relations to female vigilante groups.
After eight rounds of preliminary competition, the duo of Sarim Karim '22 and Bart Lahiff '20 qualified to advance to the elimination rounds of the tournament. In the first round Lahiff and Karim faced off against debaters from Princeton, John Hopkins and the University of Miami. The pair made it to the quarter final round, placing them in the top 16 teams. This tournament marks former team President Lahiff's last competition, capping off a four-year career of success on a high note.
A second team comprised of recent graduate Liam Sullivan '20 and Sreyan Kanungo '23 were the second ranked novice team at USUDC. They performed at such a high caliber that they qualified for varsity-level elimination rounds and opted to compete in the higher division where they placed as octo-finalists, placing them in the top 32 teams. This tournament also was Sullivan's final competition on the HWS team, a yearlong career that began with this same partnership winning last year's season opener tournament at Bard College.
In addition to being ranked as a team, each debater is ranked individually. Karim was the HWS team's top speaker and was recognized for being the sixth highest ranked ESL speaker. Kanungo was ranked as the seventh best ESL speaker and seventh best novice speaker.
While the remaining teams did not advance, each team had a strong showing. For Matt Nusom '23 and Connor Parrow '21 this was their second tournament competing together and they narrowly missed advancing to elimination rounds. The teams of Mikaela Lewis '20 and Elim Pilet '22 as well as Maya Striuli '22 and Elise Donovan '22 each won preliminary rounds as they competed against teams from all over the country.
This tournament was also the first time that a new scoring system was used at a debate tournament. The new "tapered" scoring system was developed by Associate Professor of Philosophy R. Eric Barnes, Professor of Education Paul Kehle and Hugh "Nick" Mckenny '20. Together with collaborator Chuan-Zheng Lee at Stanford University, they have written several papers demonstrating that the new scoring system yields results that are more accurate and fair.
The tournament would not have been possible without the noncompeting team members' hard work and tremendous effort. The success of this tournament highlights the ability of HWS Debate Team to adapt and succeed both in-person and online.
The photo at top features the HWS Debate Team practice in Vandervort Room.