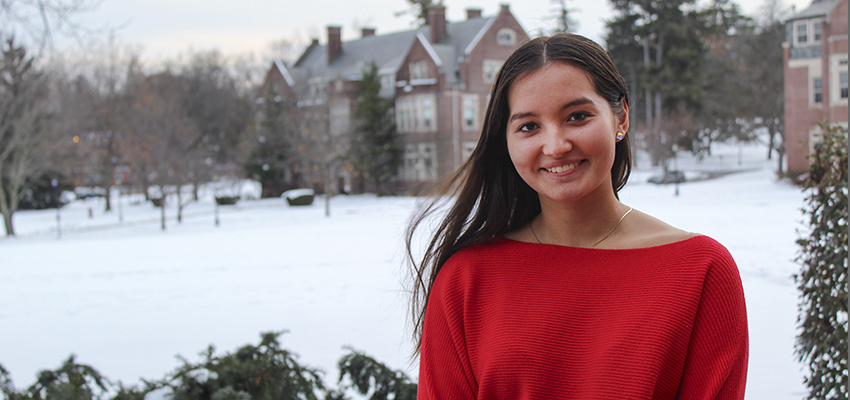 HWS News
5 June 2020

Striuli '22 to Intern with Bremer Law Firm

Maya Striuli '22 has landed an internship at Bremer Law & Associates in Providence, R.I., a firm specializing in immigration law. Striuli will assist the team's paralegals as she develops her passion for advocacy and immigration reform.

Striuli, who is considering pursuing a law degree after graduation from HWS, sees the internship as an opportunity to clarify her interest. As a political science major, she is eager to learn about the intricacies of immigration law and how it affects paths to citizenship in the United States.

She previously held an internship with Rural & Migrant Ministry in Lyons, N.Y., where she secured a grant that was used to develop a cookbook of recipes by farmworkers. She also helped coordinate the organization's annual Rural Women's Assembly. During the course of the internship, Striuli says she improved her Spanish language skills.

"I learned so much about the rural migrant community, specifically farmworkers. I also got to see a non-profit at work, which requires major community engagement and community empowerment," Striuli says.

The Barrington, R.I.-native was strategic in securing the internship. After identifying several firms who hire summer interns, Striuli sent a cover letter and resume to Attorney Hans J. Bremer. Striuli was hired soon after an informal interview.

Through the Salisbury Center for Career, Professional and Experiential Education, she says she developed critical job search skills. "They always stress the importance of networking and making connections. That was something I always kept in mind and made me feel more confident about reaching out to people and putting myself out there," she says.

Along with her internship experience, Striuli credits her broad range of coursework in political science, writing and rhetoric, philosophy and sociology with helping her develop critical thinking, analysis and writing skills.

On campus, she works as a student assistant in the William Smith Dean's Office and as an O'Laughlin Ambassador in the Office of Admissions. She is a member of the Debate Team, the Asian Students Union and serves as a Writing Colleague.