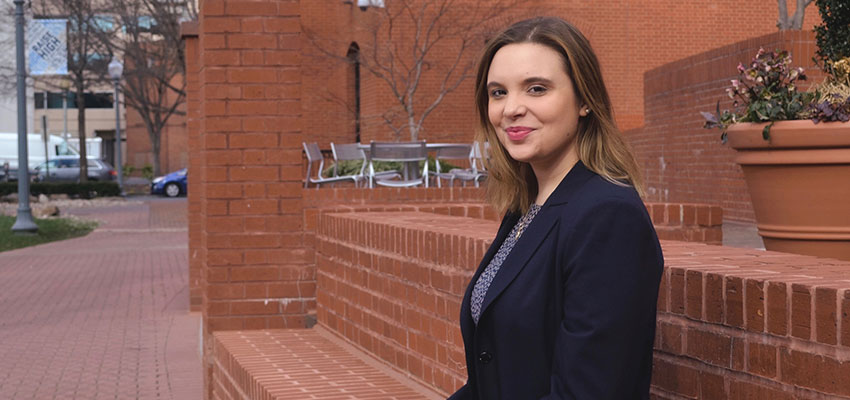 HWS News
29 May 2020

Fisher '18 Elected President of GW Law Student Bar Association

Second-year George Washington University Law student Jacqueline Fisher '18 has been elected president of the Student Bar Association for the 2020-2021 academic year. Fisher currently serves as the Vice President of First Year Students and defeated two candidates in an election that saw the highest voter turnout in nearly a decade.

With approximately 1,700 students enrolled at George Washington Law, the Student Bar Association is responsible for orientation and social events while overseeing student organizations at the law school and serving as a liaison between the student body and administration. Fisher joined the bar association as a first year "on a whim," she says, and it became "the most formative part of my experience at GW Law."

Fisher says she has brought the culture and teachings of Hobart and William Smith with her to law school, calling on the liberal arts when thinking critically and questioning the structures and status quo of law while pursuing relationships with her peers, professors and administrators. "At HWS, I had so many faculty members and administrators in different departments who were willing to give me advice and serve as mentors," Fisher notes. "Being here is the culmination of why a liberal arts experience is so important."

Looking to the future, Fisher plans to stay in Washington, D.C. where she has connected with fellow HWS alums. Currently, she is a Law Clerk at McCarter & English LLP focusing on federal regulatory law relating to energy and the environment.

While at HWS, Fisher was a member of Pi Sigma Alpha, the national political science honor society; Hai Timiai; the Laurel Society; a residential assistant and house manager; and served as an executive board member on the Phoenix Players student theater group. She graduated magna cum laude with a double major in political science and theater.