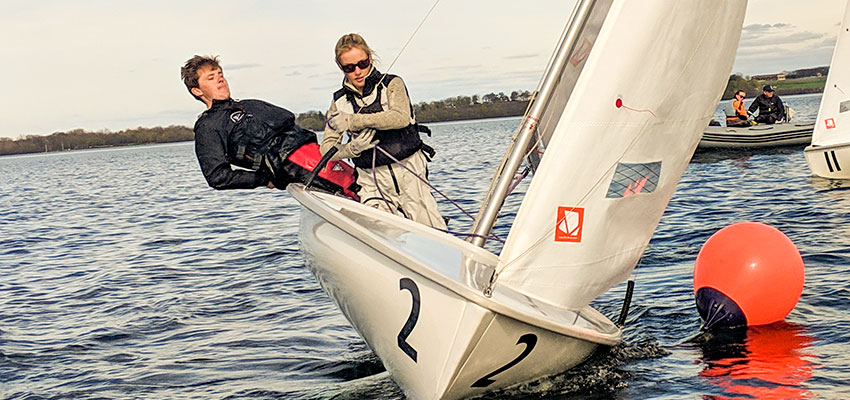 HWS News
16 June 2020 • Athletics Easton '20 Wins Hobbs Sportsmanship Award
Hobart College sailor Kyle Easton '20 is the 2020 Robert H. Hobbs Sportsmanship Award winner as announced by the Intercollegiate Sailing Association over the weekend. Graduating with a B.A. in economics, he is the first Statesman to win the national award.
Easton was also this year's MAISA Sportsperson of the Year and Hobart's Joe Arnitz '66 Memorial Sportsmanship Award winner. He was named to the 2020 All-MAISA coed skipper second team.
During the 2019-20 season, Easton competed in 11 regattas. In the spring, he helped Hobart and William Smith win the George Washington Team Race and finish second at the John Jackson Team Race. In the fall, Easton helped HWS win the Jack Boehringer Memorial Regatta and the David Lee Arnoff Trophy, sailing in A Division.
Easton sailed in three ICSA national championship regattas during his career, helping HWS finish third in the 2018 ICSA Team Race National Championship, fourth at the 2019 ICSA Coed Dinghy National Championship, and eighth at the 2019 team race nationals.
The Robert H. Hobbs Sportsmanship Award is awarded annually to the sailor who has shown outstanding sportsmanship during his collegiate sailing career. The Trophy honors Robert Hobbs, past executive vice president of the ICSA, past president of U.S. Sailing, and former chair of the U.S. Sailing Olympic Committee.
Easton minored in philosophy.
HWS was ranked 16th in the nation in the final Sailing World coed rankings. The Colleges competed in three regattas in the spring season before the remainder of the campaign was canceled due to the pandemic.