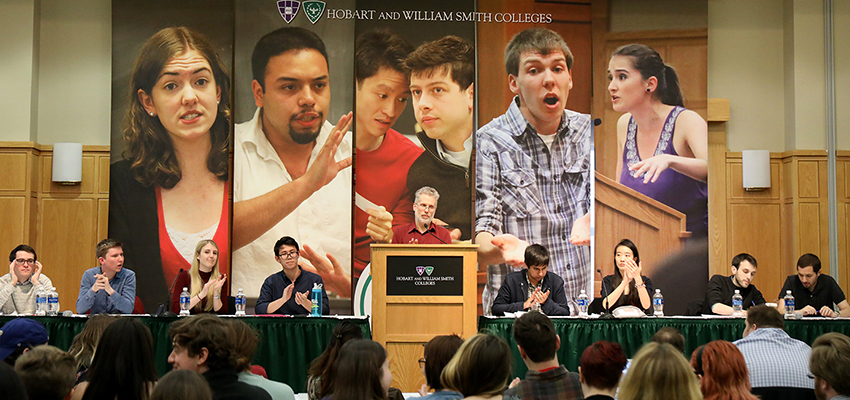 HWS News
1 July 2020

Round Robin Set for September

The 2020 HWS Round Robin will take place on Sept. 12-13. The annual event, which brings together an elite, internationally diverse group of debaters and adjudicators, will be conducted virtually using the online speech and debate service Yaatly.

Competing this year will be teams from Cambridge University, Harvard University, Stanford University, Yale University, the Philippines, Serbia, Canada, Finland, Ghana, the Netherlands, Spain and South Africa.

The HWS Round Robin follows the World Universities Debating Championship (WUDC) format, where four teams face off with two teams representing the proposition and two teams representing the opposition. The round robin component ensures that every team debates against every other team exactly once in the preliminary rounds.

Debaters and judges participating in last year's Round Robin represented universities from around the world, including Harvard, Oxford University, Melbourne University, London School of Economics, Stanford, Tel Aviv University, University College Dublin, Yale and Zagreb University. Last year's tournament was won by Oxford, with Melbourne taking second place.

While Hobart and William Smith regularly earn victories against top teams in other tournaments, because the Colleges host the Round Robin, the rules restrict the HWS team from competing. HWS invented the Round Robin format for WUDC style debating in 2007 and the tournament has become one of the most prestigious in the world.

The 2020 Round Robin was originally scheduled for April, but was postponed because of the coronavirus pandemic. For more information about this year's competition, follow the HWS Debate Team on Facebook.