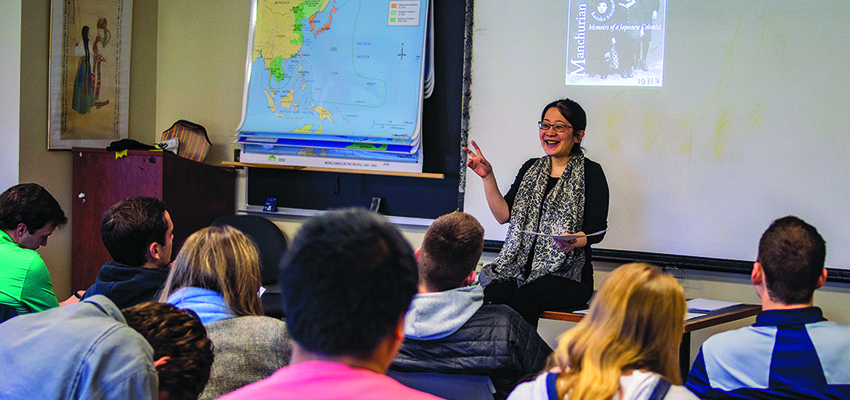 HWS News
23 December 2020 • Faculty Asian Studies Pursuits Funded by Tanaka Grant
Funding from the Tanaka Memorial Foundation allowed Carly Shiever '21 to hold a remote internship and Associate Professor of History Lisa Yoshikawa to pursue continued book research.
A portion of a $10,000 grant from the Tanaka Memorial Foundation allowed international relations and Asian studies double major Carly Shiever '21 to complete an internship with the competitive Japan-American Student Conference (JASC), a student-led exchange program that emphasizes the personal connections between the two cultures.
Shiever attended JASC in 2019 and this year was elected to the executive committee responsible for choosing the theme and discussion topics and managing logistics leading up to and during the conference. While the academic conference typically allows roughly 75 American and Japanese college students to travel to several Japanese sites, discussing both the historical significance as well as the future of U.S.-Japan relations, this year's event was held virtually because of coronavirus restrictions.
"Essentially, I dedicated myself to a 10-month long remote internship of online meetings and Skype calls, recruiting delegates and reviewing applications, reaching out to possible site activities and presenters, and publicizing the conference," Shiever says. "Although it was challenging, it was an incredibly rewarding experience for me to gain hands-on organizational and team-building skills as well as more insight on current US-Japan relations."
Shiever has applied for a Fulbright scholarship to Japan and is currently working on law school applications with the intention of studying international law.
Tanaka Memorial Foundation funds are also being used to support the research of Lisa Yoshikawa, Chair of the Asian Studies Department and Associate Professor of History. Yoshikawa is writing a book, Negotiating Nature and Empire: The Politics of Animal Distribution in Japan, and has also been invited to revise a major Japanese history textbook.
"I'm hoping to travel to Japan in the summer of 2021," she says. "In the meantime, I've been collecting primary resources that are available online and am considering spending some of the grant money to aid easier access to those sources."
Research conducted for the earlier iteration of Yoshikawa's book project (completed with the aid of the Tanaka grant in 2017-2018) has led to five invited presentations and three accepted conference papers, as well as increased coverage of environmental history in the courses she teaches at the Colleges, including "Japan Since 1868," "The Worlds of Civilized Barbarians" and "Riding with Genghis Khan." She anticipates that her new research will add perspectives and material to the Asian studies keystone course "Trekking through Asia."
The Tanaka Memorial Foundation, which established the Tanaka Asian Studies Endowment and annually supports the Asian Studies Program, and the Tanaka Lectureship in Japanese have strengthened the Colleges' commitment to global citizenship since 1992.
In the photo above, Chair of the Asian Studies Department and Associate Professor of History Lisa Yoshikawa teaches in Stern Hall.