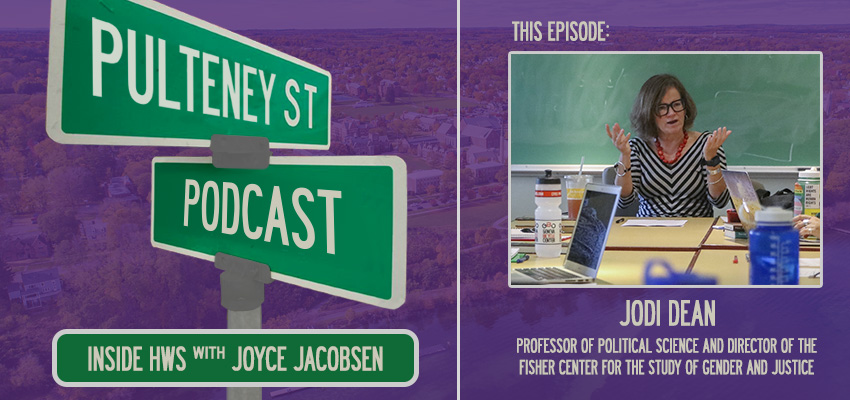 HWS News
16 October 2019 • Faculty Pulteney Street Podcast with Jodi Dean
Episode 8: Jodi Dean
Jodi Dean, professor of political science and director of the Fisher Center for the Study of Gender and Justice, joins President Joyce P. Jacobsen on the latest episode of the Pulteney Street Podcast, discussing Dean's newest book Comrade, published this month, as well as her other work around politics, technology, democratic society and extraterrestrial life.
Dean, who held the Donald R. Harter '39 Professorship of the Humanities and Social Sciences from 2013 to 2018, is the author or editor of 13 books, including Blog Theory, The Communist Horizon and Democracy and Other Neoliberal Fantasies. An expert in contemporary political theory, she published Crowds and Party in 2016, arguing for a vision of leftist politics with a renewed focus on the political party as a vehicle for lasting change.
In Comrade, she offers a theory of the comrade as a mode of address, figure of belonging, and carrier of expectations for action. The latest book analyzes the tensions and challenges among the contemporary left that arise from the substitution of political identity for a relation of political belonging that must be built, sustained and defended.
Dean, who holds a Ph.D., M.Phil. and M.A. from Columbia University, and B.A. from Princeton, joined the HWS faculty in 1993. A recipient of the Colleges' 1998 faculty award for scholarship, she has presented her work at conferences and universities around the world and published dozens of articles in renowned scholarly journals and periodicals. She was a 2013-14 fellow at the Society for the Humanities at Cornell University, where she continued research around crowds and the implications of a collective desire for collectivity. In 2017, she served as the Distinguished Writer in Residence at Birkbeck College of Law in London.
Against the backdrop of political theory, her courses engage students in everything from climate change to feminism. In addition to her teaching duties, Dean has served as director of the Fisher Center for the Study of Gender and Justice since 2012.
Podcast: Play in new window | Download
Subscribe: RSS