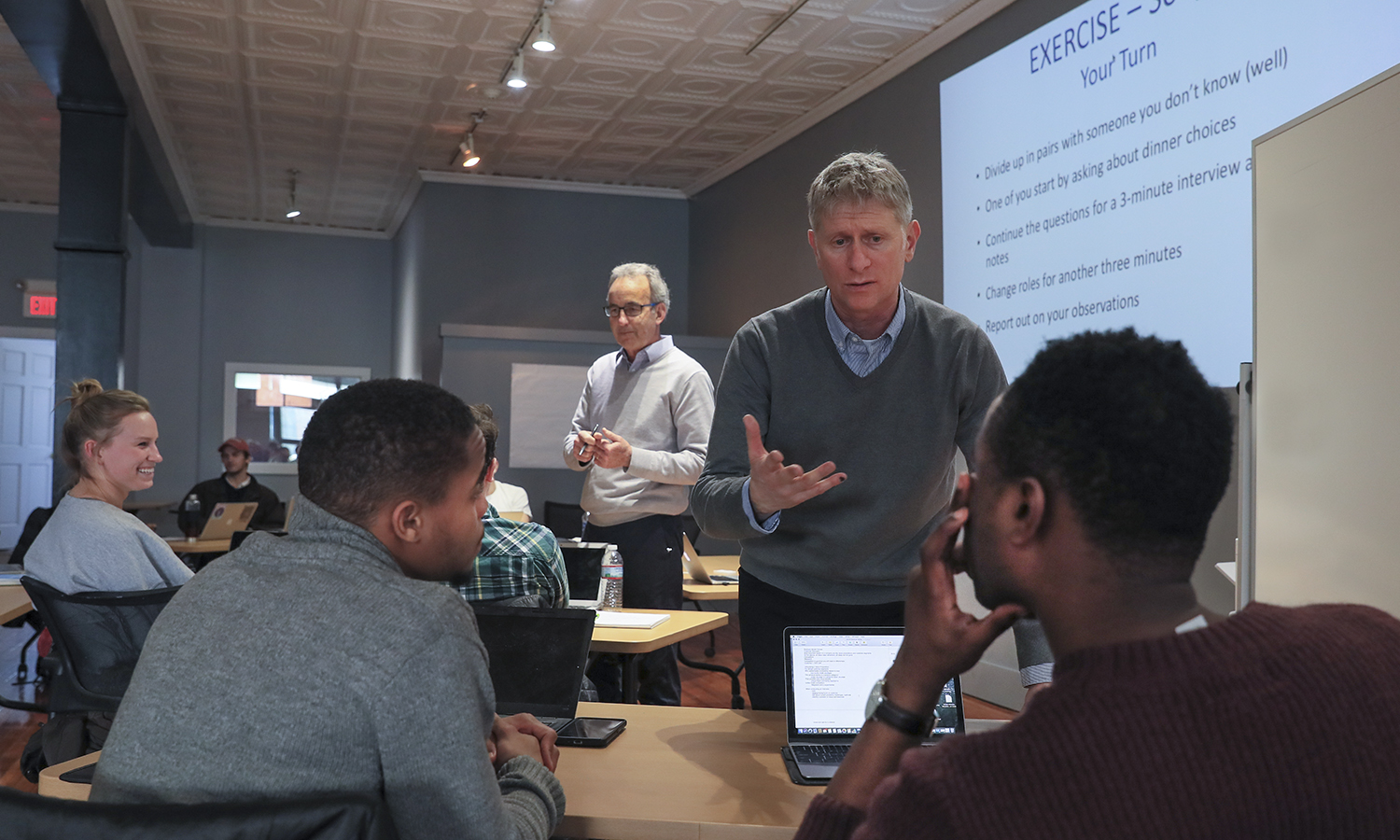 Curriculum
4+1 or 3+1
The Master of Science in Management can be earned in an innovative 3+1 model (students complete a bachelor's and master's concurrently in four years) or the more traditional 4+1 (4-year undergrad program followed by a 1-year master's)
For students pursuing the 4+1 option, the MSM takes two semesters to complete. Take four core courses in the fall and four electives in the spring. Complete a series of skill building and experiential learning activities simultaneously, or over the winter or summer recess.
Students pursuing the accelerated 3+1 program will complete all MSM requirements over their junior and senior years while simultaneously completing their undergraduate degree.
Internship
Internships aren't just guaranteed; they're required. Every student in the management program will put their education into action by completing an internship experience that is tied to their personal and professional goals. Working with our nationally recognized Salisbury Center for Career Services, you'll be supported through the search, application, interview and offer processes. You'll graduate with experience on your resume.
Experiential Field Trips
It's a given. Our curriculum is thought provoking and hands on. Field trips are designed to introduce you to potential career paths, provide networking opportunities and make the connection between theory and the real world. By observing and interacting with professionals across industries, you'll be prepared to step into a management role post-graduation.
Capstone Project
Significant work leads to significant outcomes. The capstone project is an opportunity for you to produce meaningful work in the professional area that most interests you. Built into an elective course, you'll fuse the knowledge you've gained in the classroom with the skills you've acquired in the field. The end result is a proof point in your career portfolio.
Courses of Instruction
This Master of Science in Management (MSM) program builds on the value of your undergraduate education, providing you with the additional skills, knowledge and insight necessary to build a rewarding career and live a consequential life.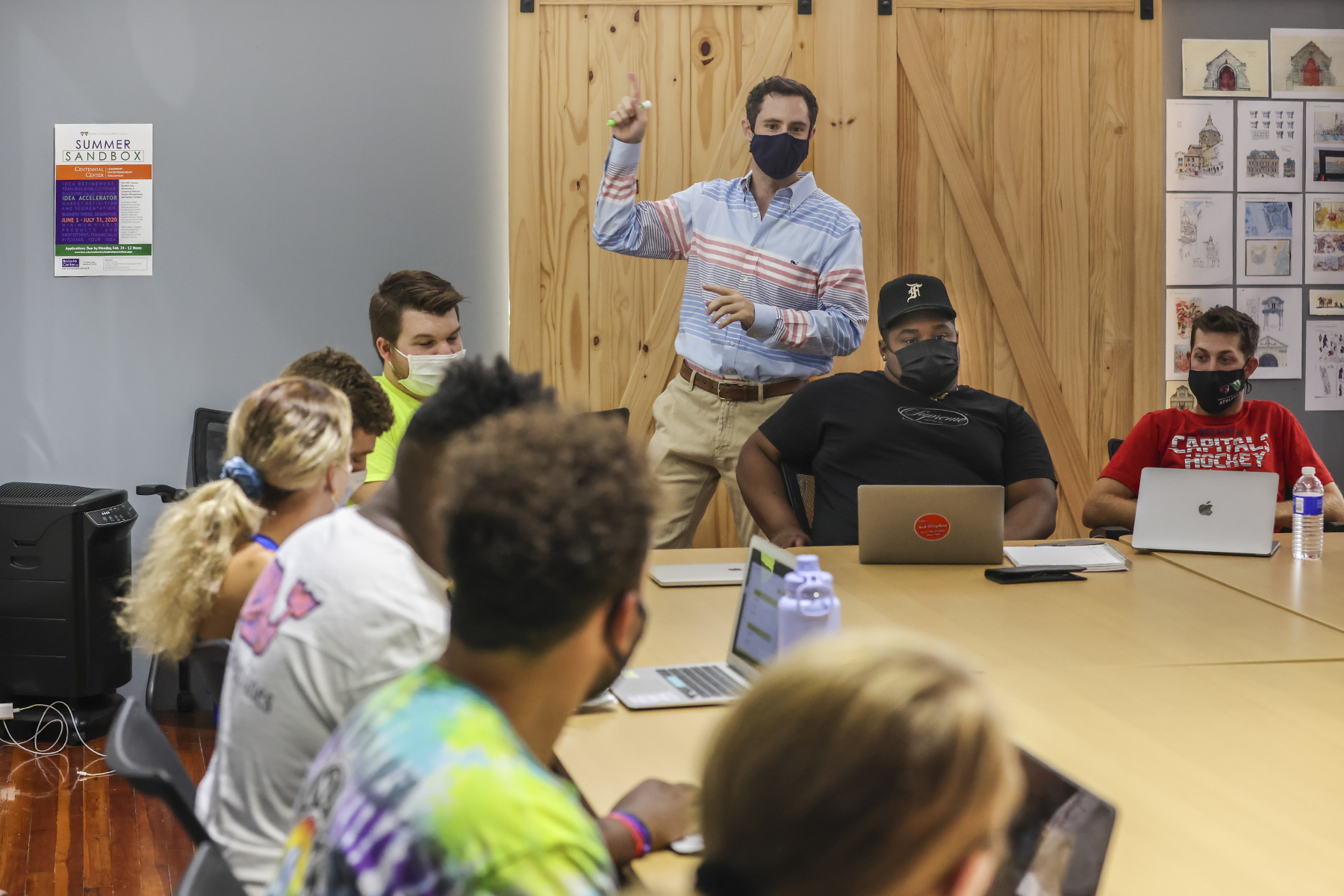 The MSM requires completion of 10 credits: 8 courses (4 cores, 4 electives), a 1-credit (or two half-credits) internship, two ¼ credit online "skills" courses, and two ¼ credit experiential field trips. Each student must also complete a capstone experience in conjunction with one of their elective courses.
Core Courses
Management Strategies for a Changing World
An interdisciplinary, team-taught approach to understanding the challenges and responsibilities managers must confront in any 21st Century organization, including principles of: diversity, equity, and inclusion (DEI); ethical decision making; and sustainability. By recognizing how past practices continue to afford privilege according to race, as well as ethnicity, religion, gender, sexuality, ability, age, and socioeconomic class and how current practices threaten the environmental health of our planet, students will learn how and where change is possible. "Management Strategies for a Changing World" aims to empower a new generation of leaders impassioned to meet the challenge of combating the connected ills of environmental injustice and social inequality in its many forms.
Management Accounting
This course will provide a conceptual understanding of the skills necessary to understand and construct financial statements and for the planning and controlling processes of any type of enterprise. Students will learn to effectively manage and control capital assets and human resources and to increase operating income (profits) by setting sustainable goals and determining how to achieve them efficiently. Students will learn how to apply a budget to coordinate the business' activities with the strategic planning process by controlling operations through various costs/benefits analyses including Activity-Based-Costing, Cost-Volume-Profit analysis, and other cost management tools. Students will learn how to make capital investment decisions and why performance evaluation is an integral component in this process. The class will also cover key regulatory requirements, including the Financial Accounting Standards Board, the Securities and Exchange Commission, and the Sarbanes-Oxley Act of 2002.
Financial Management
This course provides decision makers and managers with the basic finance skills necessary to understand how businesses make investment and finance decisions. Topics covered include: the concept of present value, discounted cash flow analysis, valuation techniques, capital structure, capital management and investment priorities, risk management, short- and long-term financing, and the growing reliance on environmental, social, and governance (ESG) factors.
Leadership and Innovation Theory
Today's leaders must drive innovation by fostering inclusive workplaces with diverse teams, cultivating organizational cultures that allow for creative ideas and evidence based solutions and tackling significant issues on a local and global scale. This course offers a fusion of contemporary leadership concepts that can be applied in an array of professional contexts along with essential innovation principles necessary for undertaking real world challenges. Embedded within the liberal arts learning, this course is constructed with concepts, theories and models from a multitude of disciplines and is designed for for-profit and non-profit leaders who want to strengthen their ability to generate ideas, solve problems, affect and manage change, think creatively, develop strategic plans and pitch and present to an audience.
Elective Courses
Marketing and Communication
This course teaches management students the marketing and communications skills necessary to run successful marketing campaigns, whether for a business or a nonprofit. The course provides an overview of basic marketing topics including customer and market analysis segmentation, targeting and positioning, product pricing and placement, social media strategies, and communication strategies. Using case studies, students will critique the effectiveness of various strategies, including consideration of principles of inclusivity, ethics, and sustainability.
Data Analytics and Visualization
This course provides students with the skills they need to analyze and to visualize data sets and to communicate the results effectively. Topics include data collection and visualization, descriptive statistics and analysis, probability, survey design, inferential statistics, sensitivity and scenario analysis, regression analysis, with a goal of providing critical insights for managerial decisions.
Organizational Development
This course provides a survey of issues and ideas in management theory and practice. A special emphasis is placed on understanding management as a scientific enterprise, one that is characterized by complex but systematic relationships with inputs and outputs that, if understood, can be applied to increase the performance of individuals, groups and organizations. This course will also consider critical perspectives (i.e., queer, multicultural, indigenous, historical, and others) of traditional approaches to understanding organizational development. While traditional approaches to management learning typically divide individual and organizational considerations between, respectively, "behavior" and "strategy" courses, the unique public administrative perspective taken here encourages students to consider individual and organization level issues as related interactions.
Business Law
This course provides management students with an in-depth understanding of the structures, rules, regulations, and principles related to operating different types of entities and organizations (sole proprietorships, LLC, corporations, and partnerships, non-profits). Topics include: corporate law topics (fiduciary duties, tax, merger & acquisition); legal business structures and the liability and tax issues associated with each; real estate law; torts (defamation, theft of trade secrets, fraud, tortious interference with contracts, etc.), and the protection of intellectual property.
Nonprofit Management
This course introduces students to the world of nonprofit organizations, whether a governmental agency, academic institution, or one of the many organizations established to provide health services, social services, or public advocacy for environmental, social, or other interests. Topics discussed include the historical and legal contexts of the sector, governance and leadership issues, standards, accountability, and ethics in nonprofits, human resource and volunteer management, funding strategies, and marketing and strategic communications. The course relies heavily on case studies of a wide variety of nonprofits.
Social Innovation
This course introduces students to the growing field of social innovation and the role individuals (managers, leaders, entrepreneurs) can play as change agents and pioneers of social innovation. Students will work together to understand the knowledge, courage, hope, dreams, personalities, cognitions/thought-patterns, behaviors, strategies, processes, and acumen of today's social innovators. Students will learn models for creating pattern-breaking and scalable social change through innovations and enterprises to increase the well-being of communities. This understanding leads to applications of principles to social issues whether in the for-profit, non-profit, public sector, and social enterprise world. Working through case studies, students will learn to utilize social enterprise principles for social change, such as leveraging earned income strategies to serve social missions.