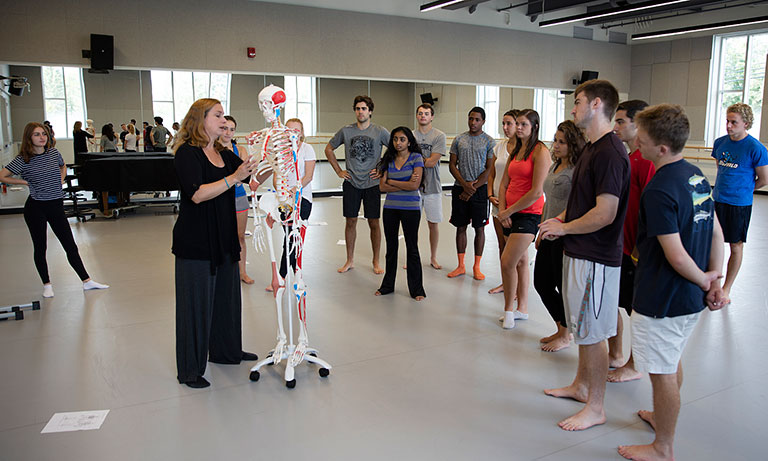 Movement Studies Minor
Movement Studies emphasizes the integration of theoretical frameworks pertaining to human movement with the study of embodied movement practices. Movement Studies is an interdisciplinary field that encourages understanding of movement theory and application across a broad range of disciplines including Biology, Dance, Education, Physics and Psychology, while engaging in course work in a movement practice.
Curriculum
Core courses for the minor include a course in movement science DAN 225 Anatomy and Kinesiology; somatic theory and practice DAN 305 Somatics; movement analysis DAN 325 Laban/Bartenieff Movement Analysis, and movement practice: a DAN technique/studio course. Minors choose two courses outside of Dance in consultation with their advisor to complete a coherent field of study. The electives may include courses from Biology, Education, Physics, Psychology or other departments and programs as they relate to human movement and/or somatic practice.
The Movement Studies interdisciplinary minor is designed to encourage students who have an interest in studying human movement from theoretical and experiential perspectives without a disciplinary limitation of the expectation of previous training in dance technique(s). The Movement Studies interdisciplinary minor offers students a six course minor—for an interdisciplinary major in Dance and Movement Studies, see Dance and Movement Studies department majors.