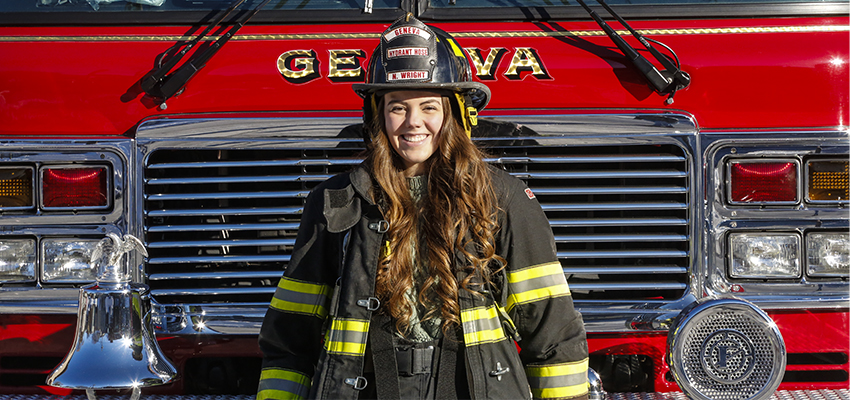 Wright ΓÇÖ20 Wins State-Wide Business Plan Competition
29 May 2020

Wright 20 Wins State-Wide Business Plan Competition

Nicole Wright 20, a volunteer firefighter for the Hydrant Hose Company in Geneva, N.Y., and winner of the2020 Pitch competition, has won the MWBE Award for the 2020 Military & First Responder Track atNew York Business Plan Competition, a venture creation and innovation competition established in 2009 to encourage entrepreneurship at New York State colleges and universities.

Wright, an English major,earned the distinctionfor Emeritus Fire Gear, a streetwear hoodie featuring a Nomex hood that provides heat and flame resistant coverage to the neck and face.The sweatshirt allows firefighters to wear the hood in their everyday lives so they will already be wearing atime-saving essential piece of gear when called to an emergency.
Minority and Women Owned Business Enterprises (MWBE) is a classification defined by New York State as any venture in which at least 51% is owned, operated and controlled by women or members of ethnic minorities. The MWBE prize is designed to encourage member of these groups to start and succeed in business ventures.
Wright was one of two William Smith students to make it to the state finals. Jenna Golden 20, a communications and media studies major, advanced with her pitch for Campus Closet, an online clothing rental platform designed specifically for women on college campuses. Goldens service facilitates a peer-to-peer fashion exchange for college women, providing a convenient, eco-conscious and budget-friendly shopping experience.
Nicole and Jenna have made great progress throughout the year and have truly shown entrepreneurial courage and determination, says Margiloff Family Entrepreneurial Fellow Ed Bizari, noting that Emeritus Fire Gearstarted in the Fall 2019 IdeaLabworkshop,aCentennial Centerprogram. Goldens project was developed independently with mentorship fromAndreanna Doering 84, managing director of TIAA.
The Finger Lakes regional semifinals, held via Zoom, included 26 teams from the University of Rochester, RIT, SUNY Brockport, SUNY Geneseo and Hobart and William Smith. Wright advanced in the Military/First Responder category and Golden advanced in the Consumer Products/Services category. Ten teams advanced to the state finals, which took place virtually in early May. Winners were announced on May 22.