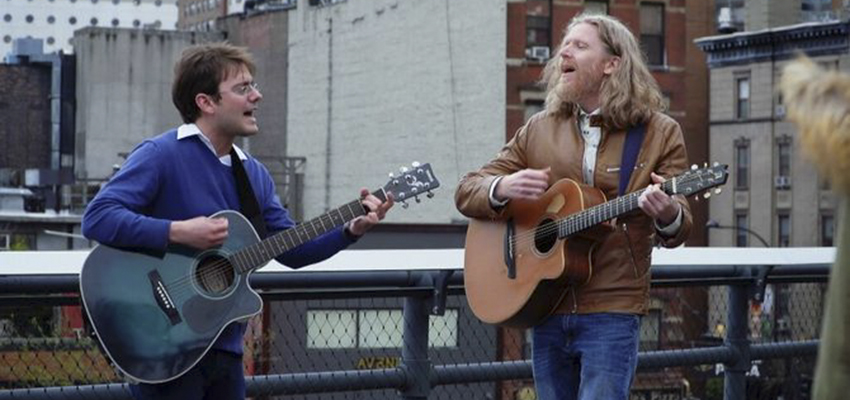 HWS News
18 June 2018 • Faculty Wells Appears on Catalan Public Television
Chair and Assistant Professor of French and Francophone Studies Courtney Joseph Wells appeared in the series premiere of a Catalan public television show Katalonski. Hosted by Barcelona-based musician Halldor Mar, the series features people who speak and love Catalan language, culture and music but live outside of the Catalonia region of Northeast Spain.
In the episode, Mar travels to New York City, where he meets with Wells, who is performing songs by the Catalan band, Mishima, in New York's High Line Park. During the five-minute segment, the pair play their guitars and sing while discussing Wells' connection to Catalan culture. In 2016, Wells brought David Carabén, a major figure in the cultural and musical landscape of the Catalan region, to perform at Froelich Hall in the Gearan Center for the Performing Arts at HWS.
"There are a lot of preconceived notions about Catalan as a language, as to who would speak it and why," says Wells. "The show plays with these notions and uses music to explore and unsettle assumptions about the use of Catalan."
Wells' interest in Catalan began while he was conducting research on the use of Occitan (a Romance language spoken in Southern France) by Catalan troubadours in the Middle Ages. In order to study these Catalan poets, he had to become proficient in the language.
Wells earned a Ph.D. in French language and literature from Boston University. He is the medieval bibliographer for the troubadour journal, Tenso, dedicated to Occitan language and literature. He is finalizing a book, Strange Territories: The Troubadour Lyric in Medieval Catalonia and Italy. Wells served as a Fisher Center Fellow during the 2016-2017 academic year and is a member of the Association Internationale d'Etudes Occitanes and is the Occitan LLC Forum's Delegate to the MLA Delegate Assembly.
Click here to view the full segment.