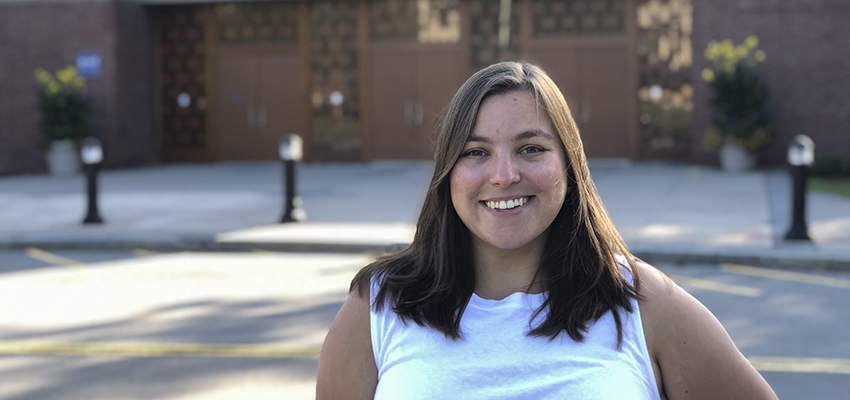 HWS News
3 September 2021

Walters '19 Joins Jewish Life at the University of Rochester

Sarah Walters '19 lands post with Hillel at University of Rochester.

As the newly appointed Director of Jewish Student Life for Hillel at the University of Rochester, Sarah Walters '19 is promoting engagement and developing and facilitating programs for undergraduates as well as building engagement among graduate students. She says she's looking forward to creating meaningful experiences for Shabbat, other holidays and educational programs.

"Hillel is a space to be Jewish in any way you feel. Hillel supports you in becoming who you want to be. It is a place to ask questions, create relationships and build who you are," she says.

For the past two years, Walters has enjoyed her work as the Holocaust Education and Community Relations Program Director with the Jewish Federation of Greater Rochester but felt compelled to apply when she learned of the position.

Walters says that Hillel (and the opportunities afforded by the Abbe Center for Jewish Life) at HWS and its Director Julianne Miller impacted her career trajectory and life. "Julianne is my role model, my mentor and my support system," she says.

In this new position, Walters is also connecting her love for Hillel to her background in human rights and social justice. "In this role, I have the opportunity to help lead and contribute to the conversation, 'how do Judaism and social justice meet?'" As part of her responsibilities, Walters will teach about the intersection of Judaism and social justice as part of the Engaged Jewish Learning Fellowship.

During her first year at HWS, Walters recalls being placed in Professor of Religious Studies Michael Dobkowskis course Genocide in the Modern Age. She went on to create her own major Genocide, Human Rights, and Peace Action, with Dobkowski serving as her advisor. She also worked with the HWS Human Rights and Genocide Symposium and attended the March: Bearing Witness to Hope in Germany and Poland.

"Both being Jewish and finding out who you are, are lifelong processes," says Walters. "This is what I hope to convey."