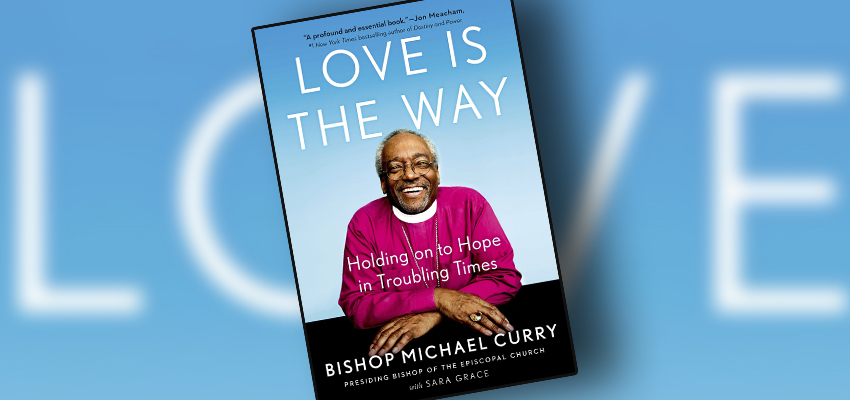 HWS News
13 November 2020 • Alums Virtual Book Discussion with the Most Rev. Bishop Curry '75
Presiding Bishop and Primate of the Episcopal Church the Most Rev. Michael B. Curry '75 will discuss his new book as well as his philosophy on love and self-care with the Hobart and William Smith community in a live Zoom event on Tuesday, Nov. 17 at 11:30 a.m EST / 8:30 PST.
The discussion, moderated by the Reverend Owen Thompson '93 of the Grace Episcopal Church in Nyack, N.Y., will feature Curry's insights on how to care for ourselves and others during this time, including those with whom we disagree. The event will be open to questions.
Love Is the Way: Holding onto Hope in Troubling Times, released in September by Penguin Random House, explores social and economic inequality, ideological division, faith and how love can offer a redemptive path forward. The book expands on the sermon Curry delivered at the British royal wedding of Prince Harry and Meghan Markle. New York Times bestselling author Jon Meacham describes it as a "profound and essential book that is at once personal and universal, intimate and sweeping."
The author of several other books, including Songs My Grandma Sang and The Power of Love, Bishop Curry has been an advocate for an inclusive, authentic ministry committed to racial reconciliation, equal justice and equal opportunity. He has led churches in Winston-Salem, N.C., Lincoln Heights, Ohio, and Baltimore, Md. In 2000, Curry was elected 11th bishop of North Carolina. In November 2015, he was elected as the 27th Presiding Bishop and Primate of the Episcopal Church, the first African American to serve in the church's highest role.
Curry earned a degree in religious studies from Hobart, where he completed Honors and was a member of the Hobart Student Association. He went on to earn a master's of divinity degree from Yale Divinity School. He served as a member of the Hobart and William Smith Board of Trustees from 1988 until 1992. In 2016, he returned to HWS to participate in the President's Forum and receive the Hobart Medal of Excellence, the Hobart College Alumni Association's highest honor. He was selected as the 2020 Commencement speaker and, after the graduation ceremony was postponed due to the pandemic, will deliver the Commencement address to the Classes of 2020 on June 6, 2021, where he will receive an honorary degree.